PENGARUH SUBSTITUSI TEPUNG TERIGU DENGAN TEPUNG KACANG GUDE (CAJANUS CAJAN L.) PADA PRODUK CRACKERS DAN POTENSINYA UNTUK MAKANAN DIET
Keywords:
Crackers, Kolesistokinin (CCK), Kacang gude, Obesitas, Rasa kenyang
Abstract
Kacang gude merupakan salah satu sumber antioksidan potensial yang memiliki tingkat serat makanan, mineral total, vitamin C, kandungan fenolik dan kapasitas anti radikal bebas lebih tinggi serta kadar lemak dan indeks glikemik lebih rendah dibandingkan dengan kacang – kacangan lainnya. Formulasi produk dalam bentuk crackers dengan substitusi tepung kacang gude dapat menjadi alternatif makanan fungsional dalam pencegahan obesitas. Faktor utama dalam pencegahan obesitas adalah pengontrolan rasa kenyang dan rasa lapar. Salah satu hormon yang dapat digunakan pada dua faktor tersebut yaitu kolesistokinin (CCK). Penelitian ini menggunakan RAL empat faktor tingkat substitusi tepung kacang gude pada crackers yaitu sebesar 0% (kontrol), 10%, 15%, dan 20%. Formulasi crackers terbaik didapatkan pada substitusi 20% yang memiliki kandungan lemak rendah dan kandungan serat serta protein yang tinggi sehingga dapat berkontribusi pada respon CCK yang lebih tinggi pula. Selain itu, crackers terpilih mendapatkan hasil analisa kimia dan penerimaan responden yang lebih baik pula.
References
Acevedo, B. A., Avanza, M. v., Cháves, M. G., & Ronda, F. (2013). Gelation, thermal and pasting properties of pigeon pea (Cajanus cajan L.), dolichos bean (Dolichos lablab L.) and jack bean (Canavalia ensiformis) flours. Journal of Food Engineering, 119(1), 65–71. https://doi.org/10.1016/j.jfoodeng.2013.05.014
Aktar, N., Qureshi, N. K., & Ferdous, H. S. (2017). Obesity: A Review of Pathogenesis and Management Strategies in Adult. Delta Medical College Journal, 5(1), 35–48. https://doi.org/10.3329/dmcj.v5i1.31436
Arfandi, A. (2013). Proses pembentukan feofitin daun suji sebagai bahan aktif photosensitizer akibat pemberian variasi suhu. Pillar of Physics, 1 68-76. (n.d.).
Ariviani, S., Affandi, D. R., Listyaningsih, E., & Handajani, S. (2018). The potential of pigeon pea (Cajanus cajan) beverage as an anti-diabetic functional drink. IOP Conference Series: Earth and Environmental Science, 102(1). https://doi.org/10.1088/1755-1315/102/1/012054
Artama, Trimurti. (2001). Pemanfaatan Tepung Ikan Lemuru (Sardinella longiceps) untuk Meningkatkan Mutu Fisik dan Nilai Gizi Crackers. Master thesis, Institut Pertanian Bogor.
Cheng, A. Y. Y. (2013). Canadian Diabetes Association 2013 Clinical Practice Guidelines For The Prevention And Management Of Diabetes In Canada.Introduction. Canadian Journal of Diabetes, 37(SUPPL.1). https://doi.org/10.1016/j.jcjd.2013.01.009
Czernicka, M., Zaguła, G., Bajcar, M., Saletnik, B., & Puchalski, C. (2017). Study Of Nutritional Value of Dried Tea Leaves and Infusions of Black, Green and White Teas from Chinese Plantations. http://wydawnictwa.pzh.gov.pl/roczniki_pzh/
Devindra, S., Chouhan, S., Katare, C., Talari, A., & Prasad, G. B. K. S. (2017). Estimation of glycemic carbohydrate and glycemic index/load of commonly consumed cereals, legumes and mixture of cereals and legumes. International Journal of Diabetes in Developing Countries, 37(4), 426–431. https://doi.org/10.1007/s13410-016-0526-1
Ferazuma, H., Marliyati, S. A., & Amalia, L. (2011). Substitusi Tepung Kepala Ikan Lele Dumbo (Clarias Gariepinus Sp) untuk Meningkatkan Kandungan Kalsium Crackers. Jurnal Gizi Dan Pangan, 6(1), 18. https://doi.org/10.25182/jgp.2011.6.1.18-27
Georgé, S., Brat, P., Alter, P., & Amiot, M. J. (2005). Rapid determination of polyphenols and vitamin C in plant-derived products. Journal of Agricultural and Food Chemistry, 53(5), 1370–1373. https://doi.org/10.1021/jf048396b
Hersoelistyorini, W., Dewi, S., S., Kumoro, A., C. (2015). Sifat Fisikokimia Dan Organoleptik Tepung Mocaf (Modified Cassava Flour) Dengan Fermentasi Menggunakan Ekstrak Kubis. Prosiding Seminarr Nasional & Internasional Universitas Muhammadiyah Semarang. 10-17
Huang, Y. C., & Lai, H. M. (2010). Noodle quality affected by different cereal starches. Journal of Food Engineering, 97(2), 135–143. https://doi.org/10.1016/j.jfoodeng.2009.10.002
Kurniasari, E., Waluyo, S., & Sugianti, C. (2015). Mempelajari Laju Pengeringan Dan Sifat Fisik Mie Kering Berbahan Campuran Tepung Terigu Dan Tepung Tapioka. Jurnal Teknik Pertanian Lampung, 4(1):1-8.
Kusumaningrum, H. P., Kusdiyantini, E., & Pujiyanto, S. (2015). Kualitas Simplisia Tanaman Biofarmaka Curcuma domestica Setelah Proses Pemanasan Pada Suhu Dan Waktu Bervariasi. Bioma : Berkala Ilmiah Biologi, 17(1), 27-33. https://doi.org/10.14710/bioma.17.1.27-33
Mead, D. (2017).A Guide To Some Edible Legumes Of Indonesia. 29. http://sulang.org/
Mervina, Kusharto, C. M., & Marliyati, S. A. (2012). Formulasi Biskuit Dengan Substitusi Tepung Ikan Lele Dumbo (Clarias Gariepinus) Dan Isolat Protein Kedelai (Glycine Max) Sebagai Makanan Potensial Untuk Anak Balita Gizi Kurang [Biscuit Formulation with Catfish Dumbo (Clarias Gariepinus) Flour and Soy (Glycine Max) Protein Isolates as A Potential Food for Undernourished Young Children]. In Hasil Penelitian J. Teknol. Dan Industri Pangan: Vol. Xxiii.
Miller, R. (2015). Biscuits, Cookies and Crackers: Nature of the Products. In Encyclopedia of Food and Health (pp. 445–450). Elsevier Inc. https://doi.org/10.1016/B978-0-12-384947-2.00075-1
Mir, J.A, K. Srikaeo, J. Garcia. (2013). Effects of Amylose and Resistant Starch on Starch Digestibility of Rice Flours and Starches. International Food Research Journal 20 (3): 1329-1335.
Oktaviana, A. S., Hersoelistyorini, W., & Nurhidajah. (2017). Kadar Protein, Daya Kembang, dan Organoleptik Cookies dengan Substitusi Tepung Mocaf dan Tepung Pisang Kepok. J.Pangan Dan Gizi, 7(2):72-81. https://doi.org/10.26714/jpg.7.2.2017.72-81
Oktaviani, N. D. (2009). Hubungan Lamanya Pemanasan dengan Kerusakan Minyak Goreng Curah Ditinjau dari Bilangan Peroksida. Jurnal Biomedika. 1(1): 31-35.
Pasaribu, Y., Irine Praptiwi, dan I., & Pendidikan Kimia FKIP UNMUS, J. (2014). Kandungan Serat Kasar Centrosema Pubescens Dan Capologonium Mucunoides Di Kampung Wasur. 4(1), 33–40.
Thoha, M, Y., & Fajrin, D, E. (2010). Pembuatan Briket Arang Dari Daun Jati Dengan Sagu Aren Sebagai Pengikat. Jurnal Teknik Kimia, No. 1, Vol. 17, Januari 2010.
Saxena, K. B., Kumar, R. V., & Sultana, R. (2010). Quality nutrition through pigeonpea-a review. Health, 02(11), 1335–1344. https://doi.org/10.4236/health.2010.211199
Katili, A,S. (2009). Struktur Dan Fungsi Protein Kolagen· Jurnal Pelangi Ilmu. 2(5): 19-29
SNI. (1992). BISKUIT. Álvarez
Suryaputra, K., Nadhiroh, S, R. Perbedaan Pola Makan Dan Aktivitas Fisik Antara Remaja Obesitas Dengan Non Obesitas. Makara Journal of Health Research. 16(1): 45-50
Winarno, F. G. (2004). Gizi Pangan dan Gizi.
Zeleny, M. (1982). Multiple Criteria Decision Making. Technology and Investment, 6(2), 81–96.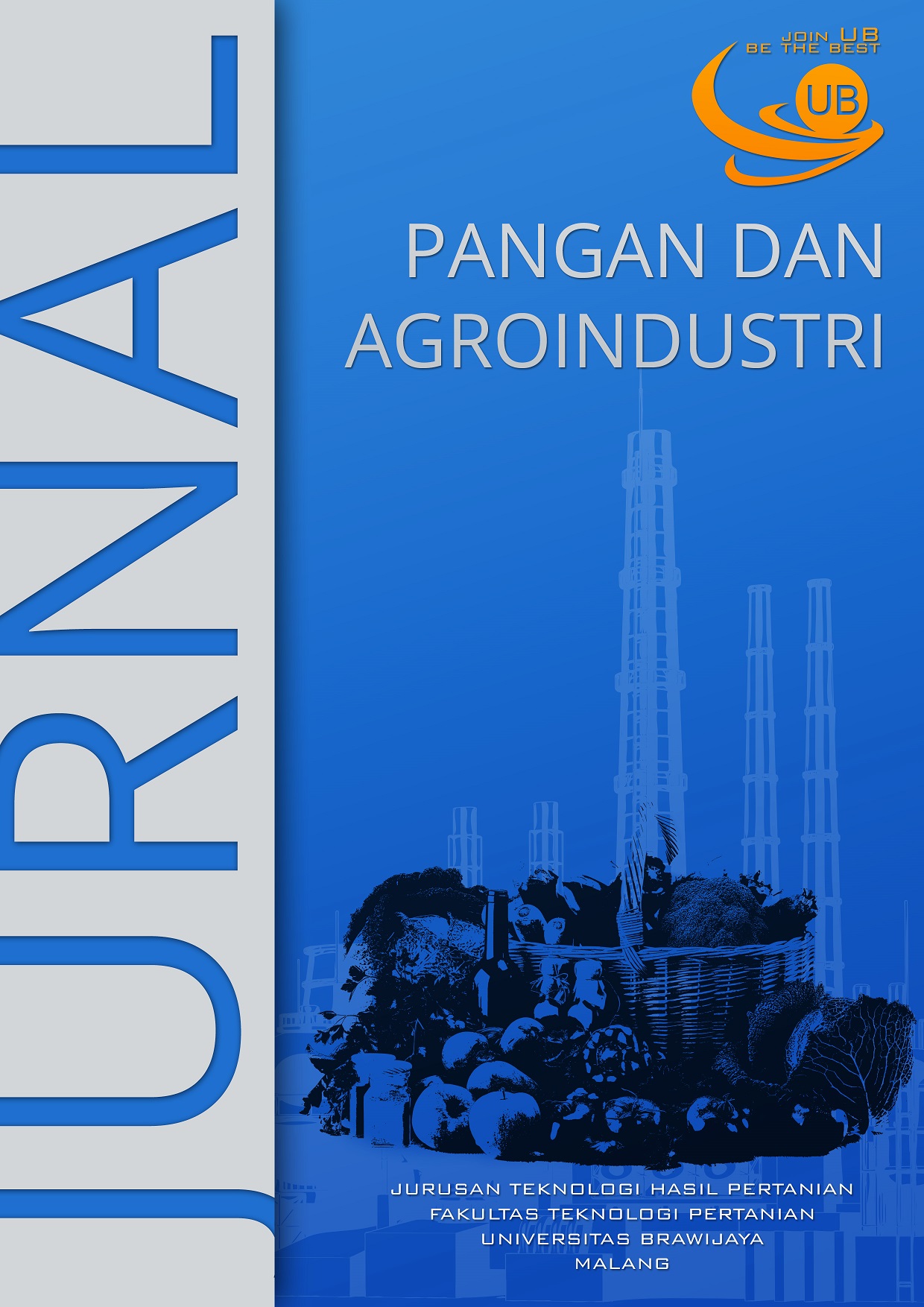 Downloads
License
Copyright (c) 2022 Jurnal Pangan dan Agroindustri
This work is licensed under a Creative Commons Attribution-ShareAlike 4.0 International License.
Authors who publish with this journal agree to the following terms:


Authors are able to enter into separate, additional contractual arrangements for the non-exclusive distribution of the journal's published version of the work (e.g., post it to an institutional repository or publish it in a book), with an acknowledgment of its initial publication in this journal.
Authors are permitted and encouraged to post their work online (e.g., in institutional repositories or on their website) prior to and during the submission process, as it can lead to productive exchanges, as well as earlier and greater citation of published work (See The Effect of Open Access).