RESEARCH OF PHYSICO-CHEMICAL PROPERTIES OF "JAMU" POWDER FROM MORINGA LEAF, BELUNTAS LEAF, AND NONI LEAF EXTRACTS
Keywords:
Beluntas leaf, Moringa leaf, Noni leaf, Jamu powder
Abstract
Jamu has been used by Indonesian people for generations. Noni, Moringa, and Beluntas leaves have the potential to be utilized as herbal medicine because they contain natural antioxidants such as alkaloids, anthraquinones, tannins, flavanoids. ascorbic acid, and phenolics. Maltodextrin and gum arabic are fillers commonly used in the manufacture of powdered beverages. Gum arabic has a great emulsifying property, but it is relatively expensive. Meanwhile, maltodextrin is a good encapsulant, but its properties as an emulsifier are not good. The purpose of this research was to determine the effect herbal leaf sources (moringa, noni, beluntas) as well as the proportion of maltodextrin and gum arabic on the physical and chemical properties of herbal powder drinks. This research used a 2 Factorial Completely Randomized Design (CRD) with 2 (two) replicates. The results obtained in herbal powder drinks have a moisture content of 3.05-4.05%, ash content of 0.35-1.24%, vitamin C content of 39.45-210.59 mg/100g, solubility of 78.94- 82.91%.
References
Adawiyah, R. (2017). Pengaruh Konsentrasi Maltodekstrin dan Sukrosa terhadap Sifat Kimia, Sifat Fisik, dan Organoleptik Minuman Instan Kulit Buah Nanas (Ananas comosus).
Aliyah, Q., & Handayani, Mustika, N. (2019). Penggunaan Gum Arab sebagai Bulking Agent pada Pembuatan Minuman Serbuk Instan Labu Kuning dengan Menggunakan Metode Foam Mat Drying, 4(2).
Anggorowati, D. A., Minah, F. N., & Surbakti, S. (2017). Potensidaun Kelor (Moringa oleifera) untuk Pembuatan Serbuk Minuman Instan dengan Variasi Volume Tween 80 dan Suhu Pengeringan sebagai Minuman Antioksidan. Laporan Hasil Penelitian : Institut Teknologi Nasional Malang.
AOAC. (2005). Official Methods of Analysis of The Association of Analytical Chemist. Virginia USA: Association of Official Analytical Chemist, Inc.
AOAC International. (2016). Appendix F: Guidelines for Standard Method Performance Requirements. In AOAC International (Ed.), AOAC Official Method of Analysis (pp. 1–18).
Apriady, R. A. (2010). Identifikasi Senyawa Asam Fenolat pada Sayuran Indigenous Indonesia. Naskah Skripsi S, 1.
Asiah, N., Sembodo, R., & Prasetyaningum, A. (2012). Aplikasi Metode Foam-Mat Drying pada Proses Pengeringan Spirulina. Jurnal Teknologi Kimia Dan Industri, 1(1), 461–467.
Badan Standarisasi Nasional. (1996). SNI 01-4320-1996. Syarat Mutu Minuman Serbuk Tradisional. Jakarta: Badan Standarisasi Nasional.
Balasubramani, P., Palaniswamy, P. T., VisvanathanBalasubramani, P., Palaniswamy, P. T., Visvanathan, R., Thirupathi, V., Subbarayan, A., & Maran, J. P. (2015). Microencapsulation of Garlic Oleoresin Using Maltodextrin as Wall Material by Spray Drying Technology. International Journal of Biolo, R., Thirupathi, V., Subbarayan, A., & Maran, J. P. (2015). Microencapsulation of Garlic Oleoresin Using Maltodextrin as Wall Material by Spray Drying Technology. International Journal of Biological Macromolecules, 72, 210–217. https://doi.org/10.1016/j.ijbiomac.2014.08.011
Elfi, Ishartani, D., Andarwulan, N., & Syah, D. (2011). Pemurnian Protease dari Buah dan Daun Mengkudu (Morinda citrifolia L .). Institut Pertanian Bogor, 22(1), 78–84.
Fuglie, L. J. (2001). The Miracle Tree: The Multiple Attributs of Moringa (pp. 314–326). Dakar.
Gardjito, M., Murdiati, A., & Aini, N. (2006). Mikroenkapsulasi β-karoten Buah Labu Kuning dengan Enkapsulan Whey dan Karbohidrat. Jurnal Teknologi Pertanian, 2(1), 13–18.
Hadiwiyoto, S., & Murti, C. R. N. (2010). Pengaruh Dekstrin dan Gum Arab terhadap Sifat Kimia dan Fisik Bubuk Sari Jagung Manis ( Zeamays saccharata ). Jurnal Teknologi Dan Industri Pangan, 21(2), 102–102.
Hani, A. M. (2012). Pengeringan Lapisan Tipis Kentang (Solanum tuberosum. L) Varietas Granola. Skripsi. Jurusan Teknologi Pertanian, Fakultas Pertanian, Universitas Hasanuddin., 1–47.
Hariana, A. (2006). Tumbuhan Obat dan Khasiatnya. Seri I. Jakarta: Penebar Swadaya.
Indriaty, F., & Assah, Y. F. (2015). Pengaruh Penambahan Gula dan Sari Buah terhadap Kualitas Minuman Serbuk Daging Buah Pala, 7(1), 49–60.
Khasanah, L. U., Anandhito, B. K., Rachmawaty, T., Utami, R., & Manuhara, G. J. (2015). Pengaruh Rasio Bahan Penyalut Maltodekstrin, Gum Arab, dan Susu Skim terhadap Karakteristik Fisik dan Kimia Mikrokapsul Oleoresin Daun Kayu Manis (Cinnamomum burmannii), 35(4).
Krisnadi, A. D. (2015). Kelor, Super Nutrisi. Pusat Informasi Dan Pengembangan Tanaman Kelor Indonesia, Lembaga Swadaya Masyarakat. Media Peduli Lingkungan (LSM-MEPELING).
Mashud, N., & Matana, Y. (2014). Kelapa Genjah sebagai Sumber Nira untuk Pembuatan Gula. Prosiding Konferensi Nasional Kelapa, 8, 179–184.
Ningsih, I. Y. (2016). Studi Etnofarmasi Penggunaan Tumbuhan Obat oleh Suku Tengger di Kabupaten Lumajang dan Malang, Jawa Timur, 13(01), 10–20.
Nurhadinata, D. (2014). Pengaruh Jenis Pembuih (Foaming Agent) dan Konsentrasi Sari Buah terhadap Karakteristik Minuman Serbuk Black Mulberry (Morus nigra L.). Doctoral Dissertation, Fakultas Teknik, (1), 1–12.
Persagi. (2018). Tabel Komposisi Pangan Indonesia (TKPI). Jakarta: PT. Elex Media Komputindo.
Praseptiangga, D., Aviany, T. P., & Parnanto, N. H. R. (2016). Penambahan Gum Arab terhadap Karakteristik Fisikokimia dan Sensoris Fruit Leather Nangka (Artocarpus heterophyllus). Jurnal Teknologi Hasil Pertanian, 9(1), 71–83.
Prasetyowati, D. A., Widowati, E., & Nursiwi, A. (2014). Pengaruh Penambahan Gum Arab terhadap Karakteristik Fisikokimia dan Sensoris Fruit Leather Nanas (Ananas comosus L. Merr.) dan Wortel (Daucus carota), 15(2), 139–148.
Solomon N. (2002). Nutricional Content Liquid Island of Noni (Morinda Citrifolia Linn).
Sumono, A., & Mulan, A. (2009). Kemampuan air rebusan daun salam ( Eugenia polyantha W ) dalam menurunkan jumlah koloni bakteri Streptococcus sp, 20(3), 112–117.
Susetyarini, E. (2009). Karakteristik dan Kandungan Senyawa Aktif Daun Beluntas. Jurnal Berkala Penelitian Hayati, 107–110.
Utomo, D., & Ariska, S. B. (2020). Kualitas Minuman Serbuk Instan Sereh (Cymbopogon citratus) dengan Metode Foam Mat Drying. Teknologi Pangan: Media Informasi Dan Komunikasi Ilmiah Teknologi Pertanian, 11(1), 42–51.
Wadjdi, M. F., Cahyaning Thias, T. A., Qatrunnada, L., Asga, I. D., Ni'mah, M., Makruf, A., … Choiruddin, A. (2020). Pengembangan Jamu Olahan Rumah Tangga untuk Meningkatkan Perekonomian Masyarakat melalui Pemasaran E-Commerce. Jurnal Pembelajaran Pemberdayaan Masyarakat (JP2M), 1(2), 143–147.
Winarno, F. G., & Winarno, S. A. A. (2017). Gastronomi Molekuler. Gramedia Pustaka Utama.
Yanuar, W., Widjanarko, S. B., & Wahono, T. (2007). Characteristics and Antioxidant Stability of Red Fruit (Pandanus conoideus Lam) Protein Based Microcapsule. Jurnal Teknologi Pertanian, 8(2).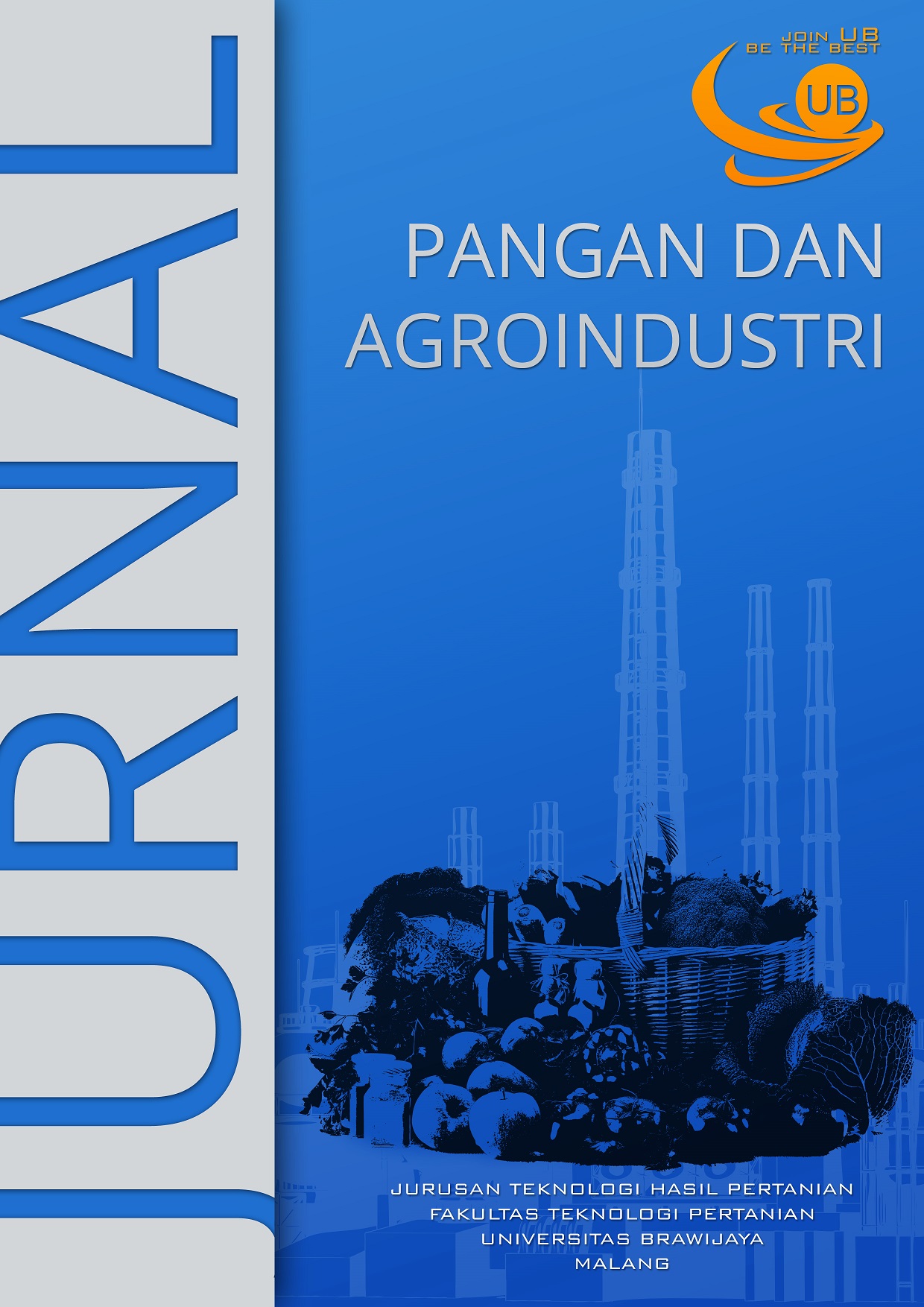 Downloads
License
This work is licensed under a Creative Commons Attribution-ShareAlike 4.0 International License.
Authors who publish with this journal agree to the following terms:


Authors are able to enter into separate, additional contractual arrangements for the non-exclusive distribution of the journal's published version of the work (e.g., post it to an institutional repository or publish it in a book), with an acknowledgment of its initial publication in this journal.
Authors are permitted and encouraged to post their work online (e.g., in institutional repositories or on their website) prior to and during the submission process, as it can lead to productive exchanges, as well as earlier and greater citation of published work (See The Effect of Open Access).