KAJIAN KUALITAS FISIK EDIBLE STRAW DARI PATI UBI JALAR KUNING (Ipomea batatas L.)
Keywords:
Edible straw, Gliserol, Kualitas fisik, Pati ubi jalar kuning
Abstract
Sedotan (Straw) merupakan alat bantu minum berbentuk tabung tanpa tutup, lentur, bertekstur halus, dan terbuat dari plastik berjenis polypropylene dan polystyrene. Bahan sedotan ini dapat didaur ulang, namun masalah khususnya di Indonesia, untuk menunggu daur ulang akan menyebabkan penumpukan sampah. Penumpukan sampah yang terlalu lama akan menyebabkan pencemaran. Solusi terbaiknya menggunakan sedotan yang dapat dimakan. Inovasi edible straw bertujuan untuk menggantikan sedotan plastik yang tidak berbahaya untuk konsumsi serta ramah lingkungan. Pati ubi jalar kuning adalah hidrokoloid bisa digunakan untuk pembuatan edible straw dengan gliserol sebagai plasticizer. Penelitian ini menggunakan RAL atau Rancangan Acak Lengkap berdasarkan dua faktor. Faktor I konsentrasi pati ubi jalar kuning (3%, 4%, 5%) dan faktor II konsentrasi gliserol (20%, 25%, 30%). Analisa data menggunakan uji lanjut DMRT  5% dan ANOVA 5%. Hasil penelitian menunjukkan bahwa edible straw memiliki kadar air (12.56%–14.37%), ketebalan (0.58 mm–0.80 mm), daya serap air (27.82%–36.59%) dan uji ketahanan air (63.41%–72.18%).
References
A'yun, S. N., Triastuti, J., & Saputra, E. (2021). Edible straw formulation from caragenant and gelatin as a solution in reducing plastic waste. In IOP Conference Series: Earth and Environmental Science, 718(1).
Arham, R., Mulyati., M. T., Metusalach, M., & Salengke, S. (2016). Physical and mechanical properties of agar based edible film with glycerol plasticizer. International Food Research Journal, 23(4), 1669–1675.
Basuki, S., Jariyah, E. K., & Hartati, D. D. (2015). Karakteristik edible film dari pati ubi jalar dan gliserol. Jurnal Rekapangan, 8(2).
Darni, Y., Herti, U., & Siti, N. A. (2009). Peningkatan hidrofobisitas dan sifat fisik plastik biodegradabel pati tapioka dengan penambahan selulosa residu rumput laut euchema spinossum. Universitas Lampung.
DCA. (2018). Sampah sedotan sepanjang jakarta-meksiko. Divers Clean Action (DCA).
Dian, P. (2021). Pengaruh jenis pati dan konsentrasi karagenan terhadap karakteristik edible straw. Universitas Pasundan.
Fatnasari, A., Nocianitri, K. A., & Suparthana, I. P. (2018). Pengaruh konsentrasi gliserol terhadap karakteristik edible film pati ubi jalar (ipomoea batatas l.). Scientific Journal of Food Technology, 5(1), 27–35.
Handito, D. (2011). Pengaruh Konsentrasi Karagenan Terhadap Sifat Fisik Dan Mekanik Edible Film. Agroteksos, 21(2–3), 151–157.
Illing, I., & Satriawan, M. B. (2018). Uji Ketahanan Air Bioplastik Dari Limbah Ampas Sagu Dengan Penambahan Variasi Konsentrasi Gelatin. Prosiding Seminar Nasional, 3(1), 182–189.
JIS. (1975). Asosiasi Standar Jepang. Jurnal J-PAL, 6(1).
Maran, J. P., Sivakumar, V., Sridhar, R., & Immanuel, V. P. (2013). Development of model for mechanical properties of tapioca starch based edible films. Industrial Crops and Products, 42, 159–168.
Munthoub, D. I., & Rahman, W. A. (2011). Tensile and water absorption properties of biodegradable composites derived from cassava skin/poly vinyl alcohol with glycerol as plasticizer. Sains Malaysiana, 40(1), 713–718.
Osés, J., Fernández-Pan, I., Mendoza, M., & Maté, J. I. (2009). Stability of the mechanical properties of edible films based on whey protein isolate during storage at different relative humidity. Food Hydrocolloids, 23(1), 125–131.
Rohmah, D. U. M., Luketsi, W. P., & Windarwati, S. (2020). Analisis organoleptik edible straw dari buah nanas (ananas comosus l.) Subgrade varietas queen. AGROINTEK: Jurnal Teknologi Industri Pertanian, 14, 24–35.
Skurtys, O., Acevedo, C., Pedreschi, F., Enrione, J., Osorio, F., & Aguilera., J. M. (2009). Food hydrocolloid edible films and coatings. Nova Sciences Publishers, Inc.
Sutanti, S., & Dewi, C. K. (2018). Karakterisasi bioplastik berbahan kolang-kaling dengan monogliserida dari minyak kelapa. Jurnal Inovasi Teknik Kimia, 3(2).
Warkoyo, W., Rahardjo, B., Marseno, D. W., & Karyadi, J. N. W. (2014). Sifat fisik, mekanik dan barrier edible film berbasis pati umbi kimpul (xanthosoma sagittifolium) yang diinkorporasi dengan kalium sorbet. Agritech, 34(1), 72–81.
Widodo, L. U., Sheila, N. W., & Nimade, A. P. (2019). Pembuatan edible film dari labu kuning dan kitosan dengan gliserol sebagai plasticizer. Jurnal Teknologi Pangan, 13(1), 57–65.
Wiramukti, A. (2012). Pemanfaatan pigmen antosianin ekstrak murbei (morus alba) sebagai agen biosensor dalam pembuatan pengemas edible film pendeteksi kerusakan sosis melalui indikator ph. Universitas Brawijaya.
Yuliansar, Y., Ridwan, R., & Hermawati, H. (2020). Karakterisasi pati ubi jalar putih, orange, dan ungu. Jurnal Saintis, 1(2), 1–13.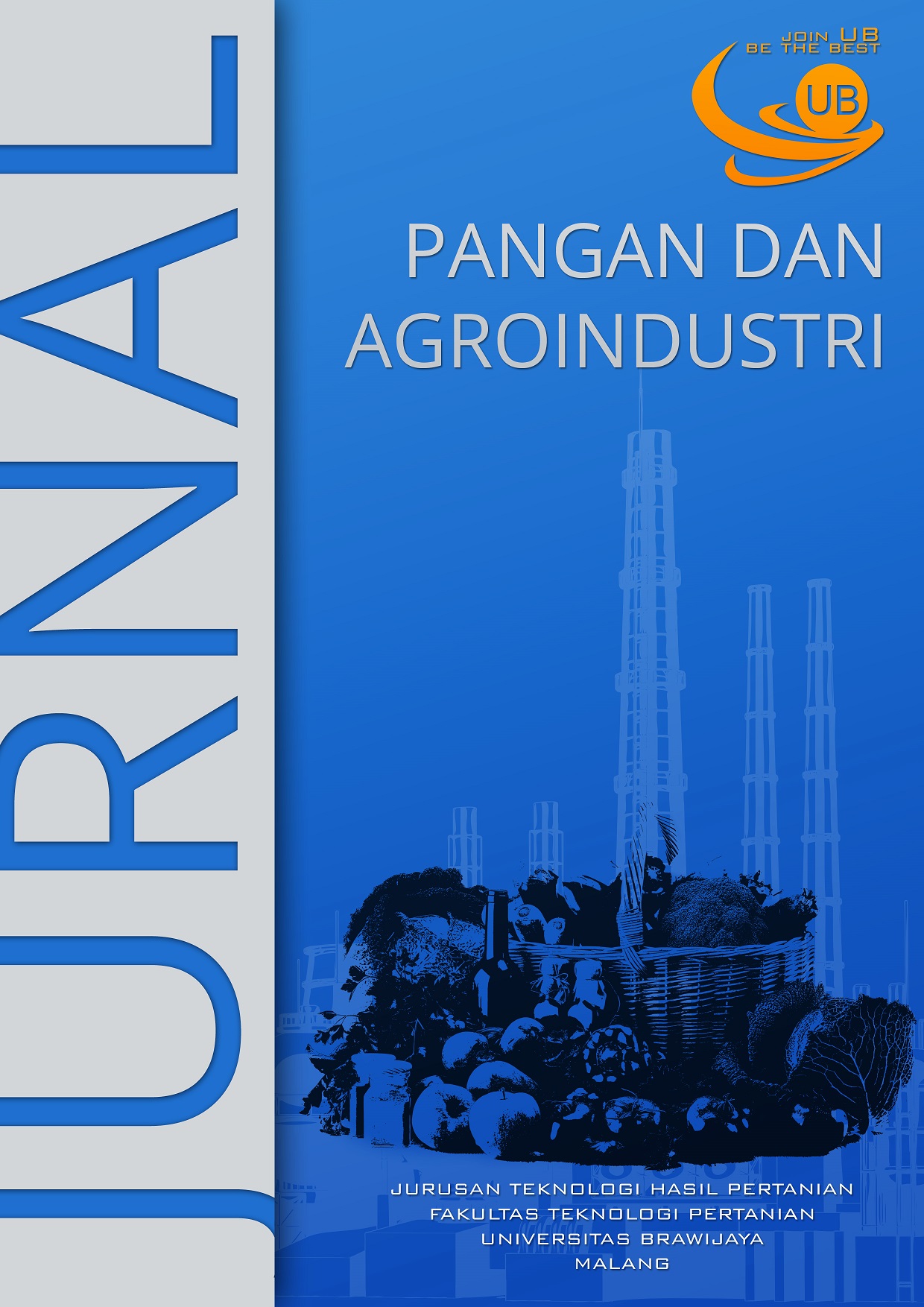 Downloads
License
This work is licensed under a Creative Commons Attribution-ShareAlike 4.0 International License.
Authors who publish with this journal agree to the following terms:


Authors are able to enter into separate, additional contractual arrangements for the non-exclusive distribution of the journal's published version of the work (e.g., post it to an institutional repository or publish it in a book), with an acknowledgment of its initial publication in this journal.
Authors are permitted and encouraged to post their work online (e.g., in institutional repositories or on their website) prior to and during the submission process, as it can lead to productive exchanges, as well as earlier and greater citation of published work (See The Effect of Open Access).