OPTIMASI SUHU DAN LAMA WAKTU STEAM BLANCHING UNTUK PEMBUATAN JAGUNG MANIS PIPIL BEKU VARIETAS PARAGON
Keywords:
Blanching, Optimasi, Jagung manis pipil beku
Abstract
Jagung merupakan komoditas yang mudah rusak dalam keadaan segar. Salah satu metode yang dapat memperpanjang umur simpan sekaligus menjaga kualitasnya yaitu dengan mengolahnya menjadi jagung manis pipil beku. Dalam pembuatan jagung manis pipil diberikan perlakuan blanching metode steam karena dapat menghentikan reaksi enzimatis, mengurangi jumlah mikroba awal, menjaga tekstur bahan, dan menghilangkan komponen yang tidak diinginkan. Tujuan penelitian ini yaitu mendapatkan nilai optimal dari waktu dan suhu blanching untuk respon kadar air, total gula dan warna. Riset ini menggunakan metode RSM (Response Surface Methodology) dengan rancang percobaan CCD (Central Composite Design). Tahap optimasi menggunakan dua faktor yaitu suhu blanching (80○C, 90○C, 100○C) dan waktu blanching (2, 4, dan 6 menit). Analisis data menggunakan software Design Expert 13 dan minitab 18. Hasil penelitian menunjukkan perlakuan terbaik pada pembuatan jagung manis pipil yaitu suhu 80○C selama 2 menit menghasilkan  kadar air 83.91%, total gula 4.23%, dan perubahan warna 6.04.
References
AOAC. (2005). Official Method of Analysis of The Asociation of Official Analytical of Chemist. In Association of Official Analytical Chemist, Inc.
Kusnandar, F. (2019). Kimia Pangan Komponen Makro (L. I. Darojah, Ed.; Pertama). Bumi Aksara.
Liu, K., Liu, Y., & Chen, F. (2019). Effect of storage temperature on lipid oxidation and changes in nutrient contents in peanuts. Food Science and Nutrition, 7(7), 2280–2290. https://doi.org/10.1002/fsn3.1069
Lumban Gaol, R. A., Nurminah, M., & Nainggolan, R. J. (2020). Effect of blanching time and sodium metabisulphite concentration on the physicochemical properties of jackfruit seed flour (Artocarpus heterophyllus). IOP Conference Series: Earth and Environmental Science, 454(1). https://doi.org/10.1088/1755-1315/454/1/012109
Nur, M., & Sunarharum, W. B. (2019). Kimia Pangan. Universitas Brawijaya Press. https://books.google.co.id/books?id=XFoBEAAAQBAJ
Nurharyati, S., Susilawati, Ii., & Indriani, P. (2021). Pengaruh berbagai varietas jagung manis (Zea mays Saccharata Sturt) Terhadap Berat Segar, Berat Kering dan Kandungan Serat Kasar Biomassa Tanaman Jagung. 3(September), 95–105.
Pawase, P. A., Chavan, U. D., & Kotecha, P. M. (2021). Effect of Blanching on Nutritional Quality of Different Pearl Millet Cultivars. June.
Popalia, C., & Kumar, N. (2021). Effect of Temperature and Processing Time on Physico-Chemical Characteristics in Hot Water Blanching of Sweet Corn Kernels. Journal of The Institution of Engineers (India): Series A, 102(1), 163–173. https://doi.org/10.1007/s40030-021-00508-1
Sailah, I., & Miladulhaq, M. (2021). Perubahan sifat fisikokimia selama pengolahan bawang putih tunggal menjadi bawang hitam menggunakan. 31(2014), 88–97.
Sharif, M. K., Sharif, H. R., & Nasir, M. (2017). Sensory evaluation and consumer acceptability. In Handbook of food science and technology (Issue October, pp. 361-386.).
Suleman, R., Kandowangko, N. Y., & Abdul, A. (2019). Karakterisasi Morfologi dan Analisis Proksimat Jagung (Zea mays L.) Varietas Momala Gorontalo. Jambura Edu Biosfer Journal, 1(2), 1–10.
Sun, Y., Wang, K., Dong, Y., Li, K., Liu, H., Cui, B., Fu, H., Chen, X., Wang, Y., & Wang, Y. (2022). Effects of radiofrequency blanching on lipoxygenase inactivation, physicochemical properties of sweet corn (Zea mays L.), and its correlation with cell morphology. Food Chemistry, 394(June), 133498. https://doi.org/10.1016/j.foodchem.2022.133498
Sundari, D., Almasyhuri, A., &
Lamid, A. (2015). Effect Of Cooking Process of Composition Nutritional Substances Some Food Ingredients Protein Source. Media Penelitian Dan Pengembangan Kesehatan, 25(4), 235–242.
Syukur, M., & Rifianto, A. (2013). Jagung Manis (1st ed.). Penebar Swadaya.
Szymanek, M., Dziwulska-Hunek, A., & Tanas, W. (2020). Influence of blanching time on moisture, sugars, protein, and processing recovery of sweet corn kernels. Processes, 8(3). https://doi.org/10.3390/pr8030340
Widagdha, S., & Nisa, C. F. (2015). Pengaruh Penambahan Sari Anggur (Vitis vinifera L.) Dan Lama Fermentasi Terhadap Karakteristik Fisiko Kimia Yoghurt. 3(1), 248–258.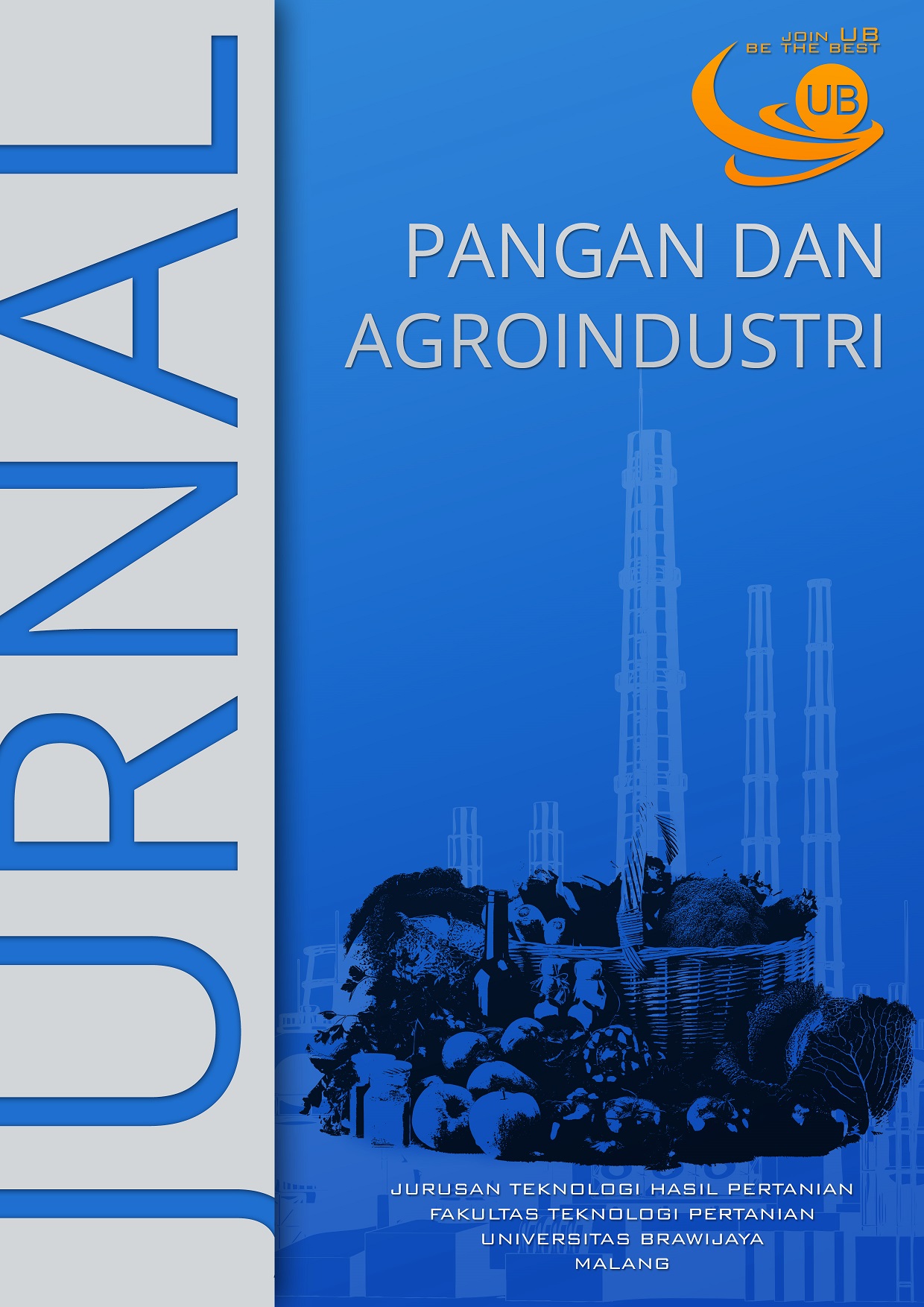 Downloads
License
This work is licensed under a Creative Commons Attribution-ShareAlike 4.0 International License.
Authors who publish with this journal agree to the following terms:


Authors are able to enter into separate, additional contractual arrangements for the non-exclusive distribution of the journal's published version of the work (e.g., post it to an institutional repository or publish it in a book), with an acknowledgment of its initial publication in this journal.
Authors are permitted and encouraged to post their work online (e.g., in institutional repositories or on their website) prior to and during the submission process, as it can lead to productive exchanges, as well as earlier and greater citation of published work (See The Effect of Open Access).