CHARACTERISTICS OF MANGO FRUIT LEATHER ( MANGIFERA INDICA ) WITH THE ADDITION OF LIME ( CITRUS AURANTIIFOLIA ) IN VARIATION OF DRYING TEMPERATURE
Keywords:
Drying, Fruit leather, Lime, Mango, Sensory analysis
Abstract
Mango is a fruit favorite of tropical people and oranges Lime is rich in vitamin C as well abundant available moment season harvest. As an easy commodity broken, needed innovation to get consumed moment no season harvest. Innovation possible processing one of them did fruit leather. Fruit leather is a product layer flt practica, durable and worth economical. Influence variation temperature drying (50 °C; 60 °C; 70 °C; and 80 °C) to characteristics physical that is color and texture as well as Vitamin C levels of fruit leather were observed with us the method Draft Random Complete (RAL) Non-Factorial. Therefore a sensory test was carried out on the resulting product on 25 panelists no trained . From the results research fruit leather mango with a temperature of 60 o C is sufficiently preferred with a content of vitamin C 1of 5.74 (mg/100 g) and water content of 11.59 (% db ) and texture 4365.58 g and color L = 53.81, a= 21.29, b = 48.58).
References
Adhamatika, A., & Murtini, E. S. (2021). Pengaruh Metode Pengeringan dan Persentase Teh Kering Terhadap Karakteristik Seduhan Teh Daun BIDARA (Ziziphus mauritiana L.). Jurnal Pangan Dan Agroindustri, 9(4), 196–207. https://doi.org/10.21776/ub.jpa.2021.009.04.1
Astuti, T., Widowati, E., & Atmaka, W. (2015). Kajian Karakteristik Sensoris, Fisik, Dan Kimia Fruit Leather Isang Tanduk (Musa corniculata Lour.) dengan Penambahan Berbagai Konsentrasi Gum Arab. Jurnal Teknologi Hasil Pertanian, 8(1). https://doi.org/10.20961/jthp.v0i0.12786
David, W., & David, F. (2020). Analisis Sensori Lanjut untuk Industri Pangan dengan R Preference Mapping dan Survival Analysis.
Hasanah, U. (2018). Penentuan Kadar Vitamin C Pada Mangga Kweni Dengan Menggunakan Metode Iodometri. Jurnal Keluarga Sehat Sejahtera, 16(31), 90–95. https://doi.org/10.24114/jkss.v16i31.10176
Hayati, R., Marliah, A., & Rosita, F. (2012). Rita Hayati et al. (2012) J. Floratek 7: 66 - 75. 66–75.
Herlina, H., Belgis, M., & Wirantika, L. (2020). Karakteristik Fisikokimia Dan Organoleptik Fruit Leather Kenitu (Chrysophyllum cainito L.) dengan Penambahan CMC dan Karagenan. Jurnal Agroteknologi, 14(02), 103. https://doi.org/10.19184/j-agt.v14i02.12938
Kusbandari, A. & Susanti, H. (2017).Kandungan Beta Karoten Dan Aktivitas Penangkapan Radikal Bebas Terhadap Dpph (1,1-Difenil 2-Pikrilhidrazil) Ekstrak Buah Blewah (Cucumis Melo Var. Cantalupensis L) Secara Spektrofotometri Uv-Visibel. Jurnal Farmasi Sains dan Komunitas, 14(1), 37–42. http://dx.doi.org/10.24071/jpsc.141562
Lestari, R. K., Amalia, E., & Yuwono, Y. (2018). Efektivitas jeruk nipis (citrus aurantifolia swingle) sebagai zat antiseptik pada cuci tangan. Jurnal Kedokteran Dan Kesehatan : Publikasi Ilmiah Fakultas Kedokteran Universitas Sriwijaya, 5(2), 55–65. https://doi.org/10.32539/jkk.v5i2.6126
Luqyana Z. T. M, & Husni, P. (2019). Aktivitas Farmakologi Tanaman Mangga (Mangifera indica L.): Review. Jurnal Farmaka, 17(2), 187.
Midayanto, D. N., & Yuwono, S. S. (2014). Penentuan Atribut Mutu Tekstur Tahu Untuk Direkomendasikan Sebagai Syarat Tambahan dalam Standar Nasional Indonesia. Jurnal Pangan Dan Agroindustri, 2(4), 259–267. https://jpa.ub.ac.id/index.php/jpa/article/view/98
Ni'mah, A. M., Amanto, B. S., & Widowati, E. (2018). Kajian Karakteristik Kimia Dan Sensoris Fruit Leather Beberapa Varietas Pisang (Musa spp.) dengan Variasi Penambahan Rumput Laut (Kappaphycus alvarezii). Jurnal Teknologi Hasil Pertanian, 6(1). https://doi.org/10.20961/jthp.v0i0.13238
Onainor, E. R. (2019). 済無No Title
No Title No Title. 1, 105–112.
Panigoro, Y., Antuli, Z., & Limonu, M. (2021). Karakterisasi Fisikokimia dan Sensori Fruit Leather Hasil Formulasi Mangga Arum manis ( Mangifera indica L . var arum manis ) dan Pisang Goroho ( Musa acuminate sp .) Physicochemical and Sensory Characterization of Fruit Leather from the Formulation of Sw. Jurnal Teknologi Hasil Pertanian, 6(2), 1–10.
Prastiwi, S. S., & Ferdiansyah, F. (2013). Kandungan Dan Aktivitas Farmakologi Jeruk. Farmaka, 15, 1–8.
Riadyani, SVITAMIN C, A. A. D. S. P. F. L. L. B. (Aloe vera) D. P. S. (2018). Vitamin C, Aktivitas Antioksidan Dan Sensoris Pembuatan Fruit Leather Lidah Buaya (Aloe Vera) Dengan Penambahan Stroberi. http://repository.itspku.ac.id/197/
Sibuea, A. F., Hamzah, F., & Rossi, E. (2016). Pemanfaatan Buah Mangga (Mangifera indica L.) dan Ekstrak Teh Hijau (Camelia sinensis) dalam Pembuatan Selai. JOM Faperta, 3(1), 1–8.
Tarwendah, I. P. (2017). Jurnal Review: Studi Komparasi Atribut Sensoris Dan Kesadaran Merek Produk Pangan. Jurnal Pangan Dan Agroindustri, 5(2), 66–73.
Utami, M., Wijaya, C. H., Efendi, D., & Adawiyah, D. R. (2020). Karakteristik Fisikokimia Dan Profil Sensori Mangga Gedong Pada Dua Tingkat Kematangan. Jurnal Teknologi Dan Industri Pangan, 31(2), 113–126. https://doi.org/10.6066/jtip.2020.31.2.113
Wahyuni, S., Rais, M., & Fadilah, R. (2018). Fortifikasi Tepung Kulit Melinjo Sebagai Pewarna Alami Pada Pembuatan Kerupuk Singkong. Jurnal Pendidikan Teknologi Pertanian, 3(2), 212. https://doi.org/10.26858/jptp.v3i2.5710
Zhaki, M., Harun, N., & Hamzah, F. (2018). Penambahan Berbagai Konsentrasi Karagenan terhadap Karakteristik Fruit Leather Pepaya. Jurnal Online Mahasiswa Universitas Riau, 5(2), 1–10. https://doi.org/10.11164/jjsps.5.2_381_2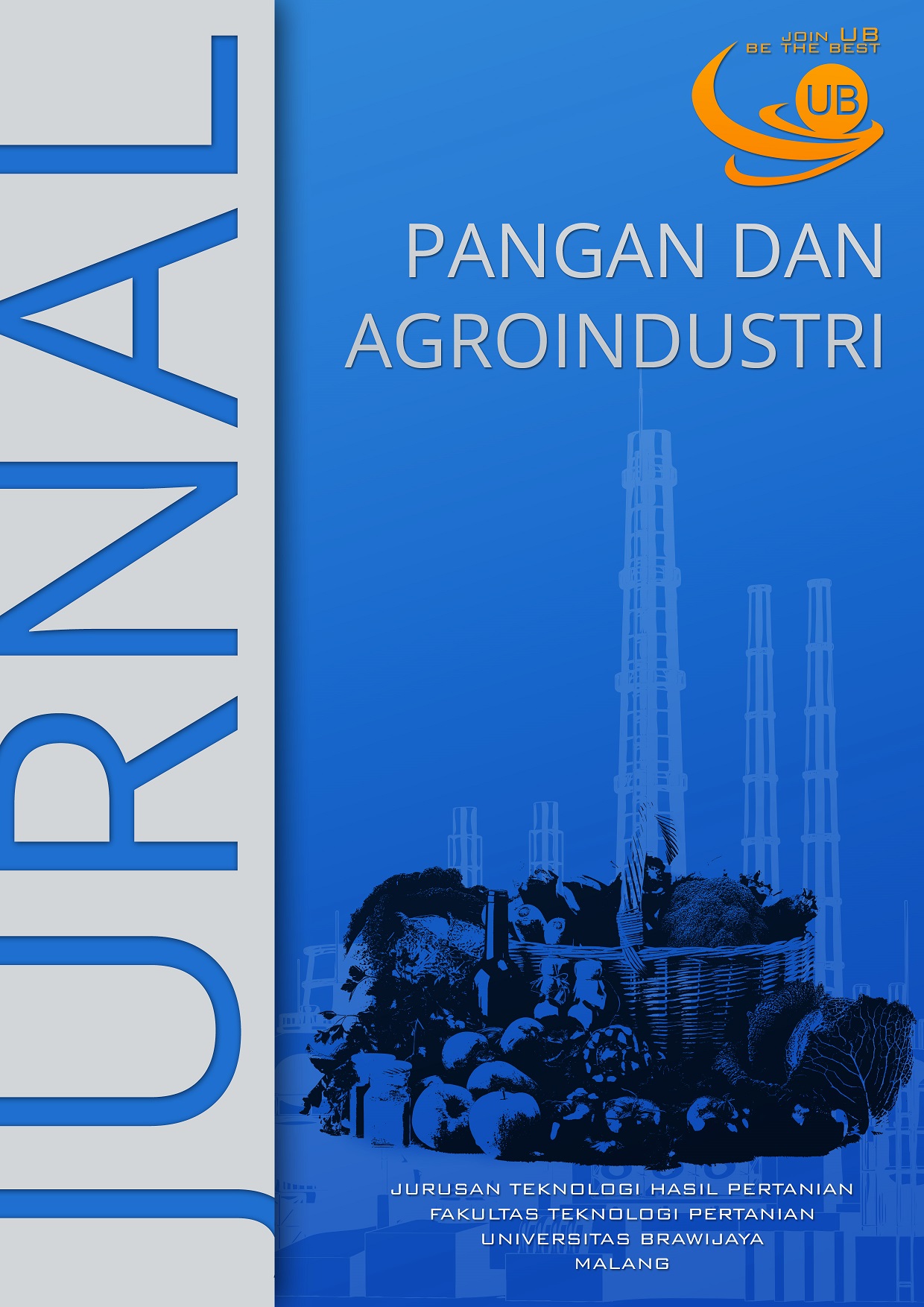 Downloads
License
This work is licensed under a Creative Commons Attribution-ShareAlike 4.0 International License.
Authors who publish with this journal agree to the following terms:


Authors are able to enter into separate, additional contractual arrangements for the non-exclusive distribution of the journal's published version of the work (e.g., post it to an institutional repository or publish it in a book), with an acknowledgment of its initial publication in this journal.
Authors are permitted and encouraged to post their work online (e.g., in institutional repositories or on their website) prior to and during the submission process, as it can lead to productive exchanges, as well as earlier and greater citation of published work (See The Effect of Open Access).