RESPON KANDUNGAN GLUKOSA DARAH TERHADAP PEMBERIAN MINUMAN LIANG TEH PONTIANAK
Keywords:
Glukosa darah, Liang teh Pontianak, Karakteristik kimia, Blood glucose, Pontianak liang tea, Chemical characteristics
Abstract
Minuman tradisional liang teh Pontianak sehingga berpotensi menurunkan kandungan glukosa darah manusia karna mengandung senyawa bioaktif tinggi. Selain itu terdapat daun muje yang memiliki sifat antioksidan yang secara turun temurun digunakan dalam pengobatan. Tujuan penelitian, mengetahui kadar total fenol, kadar flavonoid, aktivitas antioksidan, dan respon kandungan glukosa darah dari liang teh Pontianak yang diberi tambahan daun muje. Penelitian dirancang menggunakan Rancangan Acak Lengkap terdiri dari 2 perlakuan yaitu 16 g dan 32 g daun muje (Dicliptera chinensis) pada formulasi liang teh Pontianak. Subjek yang terlibat 13 orang untuk uji klinis, mengonsumsi liang teh Pontianak dengan penambahan daun muje sesuai perlakuan sebanyak 250 ml dengan glukosa 50 g. Hasil analisis menunjukkan kandungan komponen bioaktif tertinggi pada formulasi liang teh dengan kandungan 32 g daun muje yaitu total fenol 1591.30 ± 6.01 mgGAE/100 g, total flavonoid 1989.13 ± 31.00 mgQE/100 g dan aktivitas antioksidan  60.25 ± 1.00 %.Kesimpulannya, penggunaan 32 g daun muje pada liang teh menghasilkan kandungan senyawa bioaktif, aktivitas antioksidan, dan penurunan glukosa darah terbaik.
References
DAFTAR PUSTAKA
Beidokhti, M. N., & Jäger, A. K. (2017). Review of Antidiabetic Fruits, Vegetables, Beverages, Oils and Spices commonly consumed in the Diet Maliheh. Journal of Ethnopharmacology, 201, 26–41. https://doi.org/10.1016/j.jep.2017.02.031
Bernado, M.A., Santos, E., Moncada, M.M., Brito, J., Proenca, L., Singh, J., de Mesquita, M.F. (2015). Effect of Cinnamon Tea on postprandial Concentration. Researh Article. Journal of Diabetetes Research, 1-6. Article ID 913651 | https://doi.org/10.1155/2015/913651
Brouns, F., Bjorck, I., Frayn, K. N., Gibbs, A. L., Lang, V., Slama, G., & Wolever, T. M. S. (2005). Glycaemic Index Methodology. Nutrition Research Reviews, 18(1), 145–171. https://doi.org/10.1079/nrr2005100
Buraerah, H. 2010. Analisis Faktor Resiko Diabetes Melitus Tipe 2 di Puskesmas Tanrutedong, Sidenreng Rappan. Jurnal Ilmiah Nasional, 35, 4, 228
Cahyana, Y. & Adiyantias, T. (2021). Antidiabetic Agents. Indones. J. Chem., 21, 2, 512 - 526
Cao, H., Polansky, M.M., Anderson, R.A. (2007) Cinnamon Exctract and Polyphenols Affect The Expression of Tristetraprolin, Insulin Receptor, and Glucose Transporter 4 in Mouse 2T3-L1 Adiposcytes. Arch Biochem Biophys, 459, 2, 214-222. doi: 10.1016/j.abb.2006.12.034.
Das, C., & Chatterjee, S. (2017). Evaluation of Antioxidant Status in Cold Brewed Tea with Respect to Hot Decoction: Comparative Study Between Green and Black Varieties. International Journal of Pharmacognosy and Phytochemical Research, 9, 7, 961–964. https://doi.org/10.25258/phyto.v9i07.11163
Dewi, Y.S.K., Witarsa, & Surachman. (2022)a. Proses Pembuatan Minuman Liang Teh Berwarna Ungu Keemasan (Golden Purple Liang Tea Drink) Kaya Antioksidan Fenolik Dan Vitamin C Paten Sederhana No. IDS000005199 Tanggal Pemberian 10 November 2022.
Dewi, Y.S.K., Purwayantie, S., Christian, F., Fadly, D., & Simamora, C. J. K. (2022)b. Phytochemicals, Antioxidant Activities, and Toxicity Evaluation of Several Fractions Of Scorodocarpus borneensis Becc. Leaves. Rasayan Journal of Chemistry, 15(1), 705–710. https://doi.org/10.31788/RJC.2022.1516580
Dewi, Y.S.K., Purwayantie, S., & Sutignya, T. C. W. A. (2021). Teknologi Produksi Isotonik Kaya Antioksidan Berbasis Lidah Buaya-Liang Teh-Madu Hutan. Prosiding SAINTEK, 3, 585–592
Dewi, Y.S.K. (2006). Isolasi dan Identifikasi Senyawa Antioksidan Fenolik Lidah Buaya (Aloe vera chinensis). Program Studi Ilmu Pangan. Pasca Sarjana Universitas Gadjah Mada.
Fauzziyah, I. N., Widyaningsih, T. D., & Widyastuti, E. (2016). Liangteh Berbasis Cincau Hitam (Mesona palustris Bl), Pandan (Pandanus amaryllifolius), dan Jahe Merah (Zingiber officinale) : Kajian Pustaka. Jurnal Pangan Dan Agroindustri, 4(2), 536–541.
Goodrich, J.A., & Kugel, J.F. (2007). Binding and Kinetics for Molecular Biologists, Q. Rev. Biol., 82,3, 268–269.
Harijono, Mualimin, L., Estiasih, T., Narsito Wulan, S., & Sisca Pramita, H. (2021). Potensi Minuman Fungsional Wedang Uwuh Sebagai Kontrol Berat Badan dan Kontrol Kandungan glukosa Darah. Jurnal Pangan Dan Agroindustri, 9(3), 155–164.
Jaiswal, A. K., Rajauria, G., Abu-Ghannam, N., & Gupta, S. (2011). Effect of Different Solvents on Polyphenolic Content, Antioxidant Capacity and Antibacterial Activity of Irish York Cabbage. Journal of Food Biochemistry, 36, 344–358. https://doi.org/10.1111/j.1745-4514.2011.00545.x
Josic, J., Olsson, A. T., Wickeberg, J., Lindstedt, S., & Hlebowicz, J. (2010). Does Green Tea Affect Postprandial Glucose, Insulin and Satiety in Healthy Subjects: A Randomized Controlled Trial. Nutrition Journal, 9(1), 63.
Karori, S. M., Wachira, F. N., Wanyoko, J. K., & Ngure, R. M. (2007). Antioxidant Capacity of Different Types of Tea Products. African Journal of Biotechnology, 6(19), 2287–2296. https://doi.org/10.5897/AJB2007.000-2358
Kementerian Kesehatan Republik Indonesia (Kemenkes RI). (2014). Pusat Data dan Informasi Kementerian Kesehatan RI. Jakarta
Louie, J. C. Y., Atkinson, F., Petocz, P., & Brand-Miller, J. C. (2008). Delayed Effects of Coffee, Tea and Sucrose on Postprandial Glycemia in Lean, Young, Healthy Adults. Asia Pacific Journal of Clinical Nutrition, 17,4, 657–662.
Manzano, S., Williamson, G.(2010). Polyphenols and Phenolic Acids from Strawberry and Apple Decrease Glucose Uptake and Transport by Human Intestinal Caco-2 Cells, Mol. Nutr. Food Res., 54,12,1773–1780.
Mi, Y., Qi, G., Gao, Y., Li, R., Wang, Y., Li, X., Huang, S., & Liu, X., 2017, (-)-Epigallocatechin3-Gallate Ameliorates Insulin Resistance and Mitochondrial Dysfunction in Hepg2 Cells: Involvement of Bmal1, Mol. Nutr. Food Res., 61,12, 1700440.
Mooren, C. F. (2012). Encyclopedia of Exercise Medicine in Health and Disease. In Reference Reviews (Vol. 27, Issue 5). https://doi.org/10.1108/rr-04-2013-0075
Prasetya, R. (2018). Pengaruh Suhu Penyeduhan Teh Daun Kelor (Moringa oleifera) Terhadap Respon Glikemik Pada Dewasa Sehat. Institut Pertanian Bogor.
Pulido, R., Bravo, L., & Saura-Calixto, F. (2000). Antioxidant Activity of Dietary Polyphenols As Determined by a Modified Ferric Reducing: Antioxidant Power Assay. Journal of Agricultural and Food Chemistry, 48(8), 3396–3402. https://doi.org/10.1021/jf9913458
Putri, N. L. (2014). Pengaruh Pemberian Teh Daun Kelor (Moringa oleifera) Setelah dan Sebelum Terhadap Glukosa Darah Post-Pandrial Dewasa Sehat. Institut Pertanian Bogor.
Rahayu, F., Jose, C., & Haryani, Y. (2015). Total Fenolik, Flavonoid, dan Aktivitas Antioksidan Dari Produk Teh Hijau dan Teh Hitam Tanaman Bangun-Bangun (Coleus amboinicus) Dengan Perlakuan ETT Rumput Paitan. JOM FMIPA, 2(1), 170–177.
Song J, Kwon O, Chen S, Daruwala R, Eck P,Park JB, Levine M. (2002). Flavonoid Inhibition of SVCT1 and GLUT2, Intestinal Trasporters for Vitamin C and Glucose. J. Biol. Chem. 277,18,15252-60. doi: 10.1074/jbc.M110496200
Tsuneki, H., Ishizuka, M., Terasawa, M. Wu, J-B., Sasaoka, T., & Kimura,I. (2004). Effect of Green Tea on Blood Glucose Levels and Serum Proteomic Patterns in Diabetic (Db/Db) Mice and on Glucose Metabolism in Healthy Humans. BMC Pharmacol, 4, 18, 1-10 doi:10.1186/1471-2210-4-18
Wolever, T.M.S. (2006). The Glycaemic Index-A Physiological Classification of Dietary Carbohydrate. Oxfordshire: CABI Publishing.
World Health Organization Expert Consultation. (2004). Appropriate Body Mass Index for Asian Populations and Its Implications. The Lancet, 363, 157–163.
Xu, B. J., & Chang, S. K. C. (2007). A Comparative Study on Phenolic Profiles and Antioxidant Activities of Legumes as Affected by Extraction Solvents. Journal of Food Science, 72(2), 159–166. https://doi.org/10.1111/j.1750-3841.2006.00260.x
Zanzer, Y. C. (2011). Studi Pengaruh Variasi Pemberian Kadar EGCG (Epigallocatechin gallate) Teh Hijau Dalam Mengontrol Level Glukosa Plasma Darah post-prandial pada Subjek Dewasa Muda Sehat. Institut Pertanian Bogor.
Zhang-Qiaogen. (2013). Golden Tea Drink and Preparation Method Thereof. Paten China Nomor CN103380838A Tanggal publikasi 6-11-2013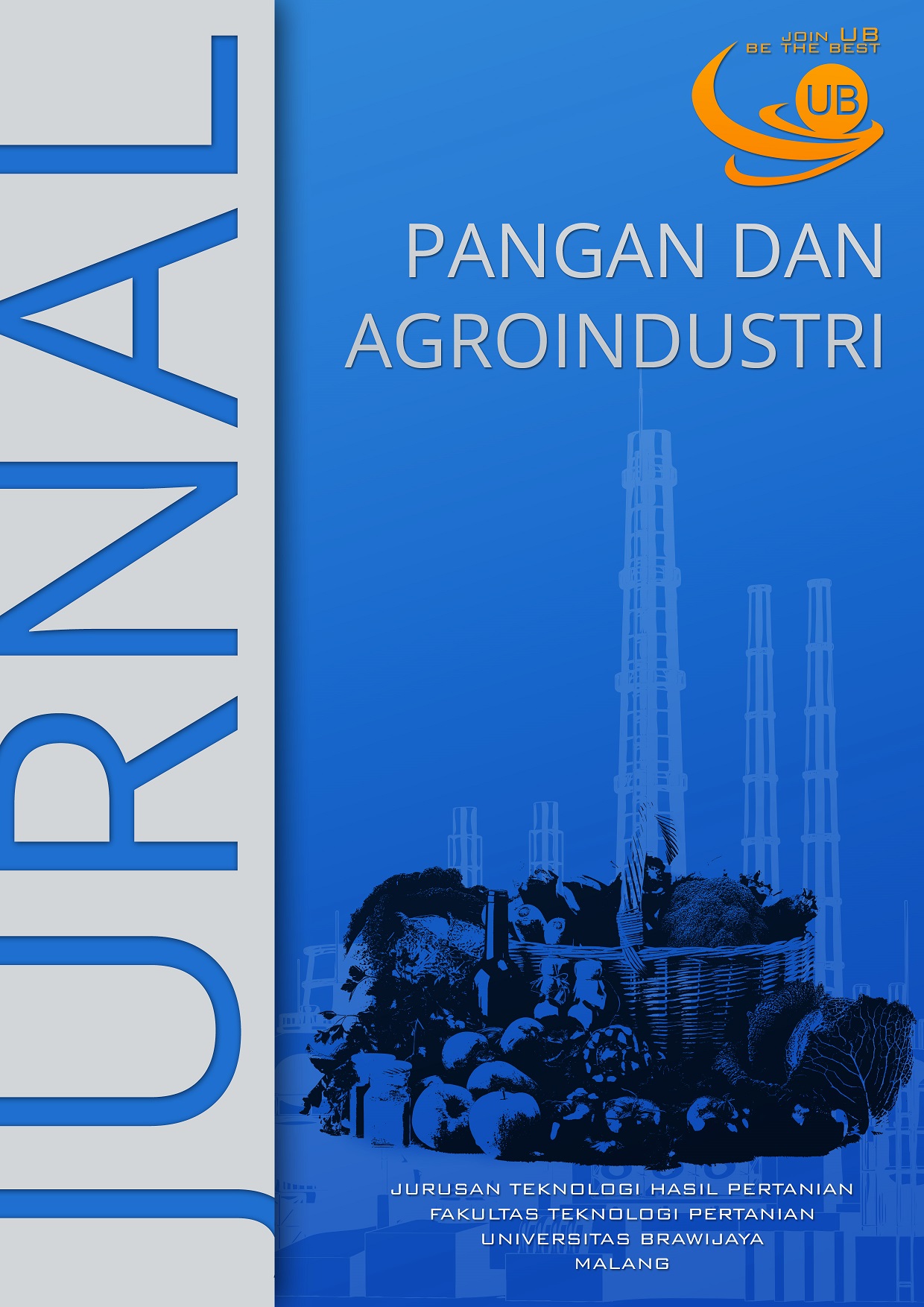 Downloads
How to Cite
Mekar, U., Dewi, Y. S. K., & Fadly, D. (2023). RESPON KANDUNGAN GLUKOSA DARAH TERHADAP PEMBERIAN MINUMAN LIANG TEH PONTIANAK. Jurnal Pangan Dan Agroindustri, 11(1). https://doi.org/10.21776/ub.jpa.2023.011.01.2
License
This work is licensed under a Creative Commons Attribution-ShareAlike 4.0 International License.