EFFECT OF USING SILICA GEL AS ACTIVE PACKAGING TO THE LEMANG DETERIORATION IN LAHAT
Keywords:
Active packaging, Lahat, Lemang, Silica gel
Abstract
The subject of this research was to analyze how the effect of silica gel concentration on Lemang water content, color, texture, taste and aroma. This study used a CRFD (Completely Randomized Factorial Design) by each two treatments and replications. The 1st treatment was silica concentrations (gram), it were  0, 1, 3 and 5. The 2nd treatment was time storage (days), it was 0, 3, 5 and 7. The data as a result were analyzed using ANOVA (analysis of variance) and SRD (the Smallest Real Difference) at a 95% confidence level. The application of silica gel on bamboo of Lemang gave a very significant effect to the Lemang water content, color and texture during 3 to 7 days storage. The best treatment from silica and time storage was 0 gram with 5 days storage. It had water content 55.67%, and the color was like by 3.8 points, the texture was little neutral by 2.16 points, the taste was little neutral by 2.30 points and the aroma was little dislike by 1.67 points. 
References
REFERENCES
Anggraini, R., & Sugiarti, T. (2022). Desain Kemasan Aktif Untuk Nanas (Ananas comosus L.Merr) Terolah Minimal. AGROFOOD, 30-37.
Artawan, P. (2013). Analisis Variatif Gravitasi Bumi di Berbagai Koordinat Dengan Ayunan Sederhana. Seminar Nasional FMIPA UNDIKSHA (ss. 396-399). Buleleng: Perpusatakaan Universitas Pendidikan Ganesha.
Daud, A., Suriati, S., & Nuzulyanti, N. (2020). Kajian Penerapan Faktor yang Mempengaruhi Akurasi Penentuan Kadar Air Metode Thermogravimetri. Lutjanus, 11-36.
Edam, M. (2017). Aplikasi Bakteri Asam Laktat untuk Memodifikasi Tepung Singkong Secara Fermentasi. Jurnal Penelitian Teknologi Industri, 1-8.
Fardiaz, D., Hariyadi, P., Apriyantono, A., & Nadia, L. (2014). Kimia Pangan. Tangerang Selatan: Universitas Terbuka.
Iin, H., Sugiarto, S., & Fahma, F. (2021). Tablet Antimikroba Untuk Aplikasi Kemasan Aktif. AGROINTEK Jurnal Teknologi Industri Pertanian, 1213-1221.
Khairunnisa, A., & Arbi, A. S. (2022). Modul-01 Good Sensory Practices and Bias Panelis. i A. Khairunnisa, & A. S. Arbi, Modul-01 (ss. 1-29). Tangerang Selatan: Universitas Terbuka.
Kurniawan, A. (2008). Penggunaan Silika Gel dan Kalium Permanganat Sebagai Bahan Penyerap Etilen. Institut Pertanian Bogor: Skripsi Fakultas Teknologi Pertanian.
Labuza, T. P. (1971). The Properties of Water in Relationship to Water Bindinh in Foods : A Review. Journal of Food Processing and Preservation, 167-190.
Larasati, D., Astuti, A. P., & Maharani, E. T. (2020). Uji Organoleptik Produk Eco-Enzyme dari Limbah Kulit Buah (Studi Kasus di Kota Semarang). FMIPA UNIMUS (ss. 278-283). Semarang: EDUSAINTEK.
Luthfi, F. T., Josary, P. J., Novianti, S., Sanggramasari, S., & Yuniastuti, M. C. (2022). Sensory Profile of Chilled Cheescake Made From Dali in Horbo Cheese in Consumer Perception. Jurnal Pangan dan Agroindustri, 133-142.
Meriatna, M., Maulinda, L., Khalil, M., & Zulmiardi, Z. (2015). Pengaruh Temperatur Pengeringan dan Konsentrasi Asam Sitrat pada Pembuatan Silika Gel dari Sekam Padi. Jurnal Teknologi Kimia, 78-88.
Nasional, B. S. (den 21 01 2013). Slideshare. Hämtat från Slideshare.net: https://www.slideshare.net/Fitrijasmineandriani/sni-01-28911992-cara-uji-makanan-minuman den 10 06 2022
Nasional, B. S. (den 02 10 2015). Slideshare. Hämtat från Slideshare.net: https://www.slideshare.net/arbydjactpartii/sni-01-23462006-petunjuk-pengujian-organoleptik-dan-atau-sensori den 20 Juli 2022
Ningtyas, R., & Shafira, R. A. (2021). Kemasan Aktif Antimikroba Berbahan Karagenan dan Ekstrak Bawang Putih untuk Memperpanjangn Masa Simpan Bakso Ikan Gurame. Jurnal Ilmu Pangan dan Hasil Pertanian, 26-35.
Nur'aeni, D., Hadisantoso, E. P., & Suhendar, D. (2017). Adsorpsi Ion Logam Mn2+ dan Cu2+ Oleh Silika Gel dari Abu Ampas Tebu. Jurnal Ilmu Kimia dan Terapan, 70-80.
Pranoto, R. (den 21 09 2015). ANZDOC. Hämtat från adoc.pub: https://adoc.pub/tata-laksana-uji-organoleptik-nasi.html#google_vignette den 15 06 2022
Ramadhani, F., & Murtini, E. S. (2017). Pengaruh Jenis Tepung dan Penambahan Perenyah Terhadap Karakteristik Fisikokimia dan Organoleptik Kue Telur Gabus Keju. Jurnal Pangan dan Agroindustri, 38-47.
Sandulachi, E. I., & Tatarov, P. G. (2012). Water Activity Concept and Its Role in Strawberries Food . Chemistry Journal of Moldova, General, Industrial and Ecological Chemistry, 103-115.
Sholichah, E., Kumalasari, R., Afifah, N., & Indrianti, N. (2020). Pengaruh Proses Pemasakan dan Penambahan Bahan Pengawet Terhadap Karakteristik Lemang Selama Masa Penyimpanan. Jurnal Pangan, 1-10.
Sonjaya, A. M., Pratama, M., & Rahmania, T. (2021). Gastronomy Traditional Culinary "Lemang" on Tanjung Sirih-Lahat District. Palembang Tourism Forum (ss. 100-106). Palembang: Atlantis Press.
Suriani, S. (2015). Analisis Proksimat Pada Beras Ketan Varietas Putih (Oryza sativa glutinosa). Al-Kimia, 91-102.
Tuina, F., Naiu, S. A., & Yusuf, S. N. (2013). Penentuan Lama Pengeringan dan Laju Perubahan Mutu Nike (Awaous melanocephalus) Kering. Jurnal Ilmiah Perikanan dan Kelautan, 95-102.
Ummah, I. L., Supardi, Z. I., & Kusumawati, D. H. (2013). Sintesis Silika Gel Menggunakan Metode Sol-Gel dan Aplikasinya Terhadap Absropsi Kelembaban Udara. Jurnal Inovasi Fisika Indonesia, 23-26.
Warsiki, E., Sunarti, T. C., & Nurmala, L. (2013). Kemasan Antimikroba untuk Memperpanjang Umur Simpan Bakso Ikan. Jurnal Ilmu Pertanian Indonesia, 125-131.
Winarno. (1989). Kimia Pangan dan Gizi. Jakarta: Gramedia.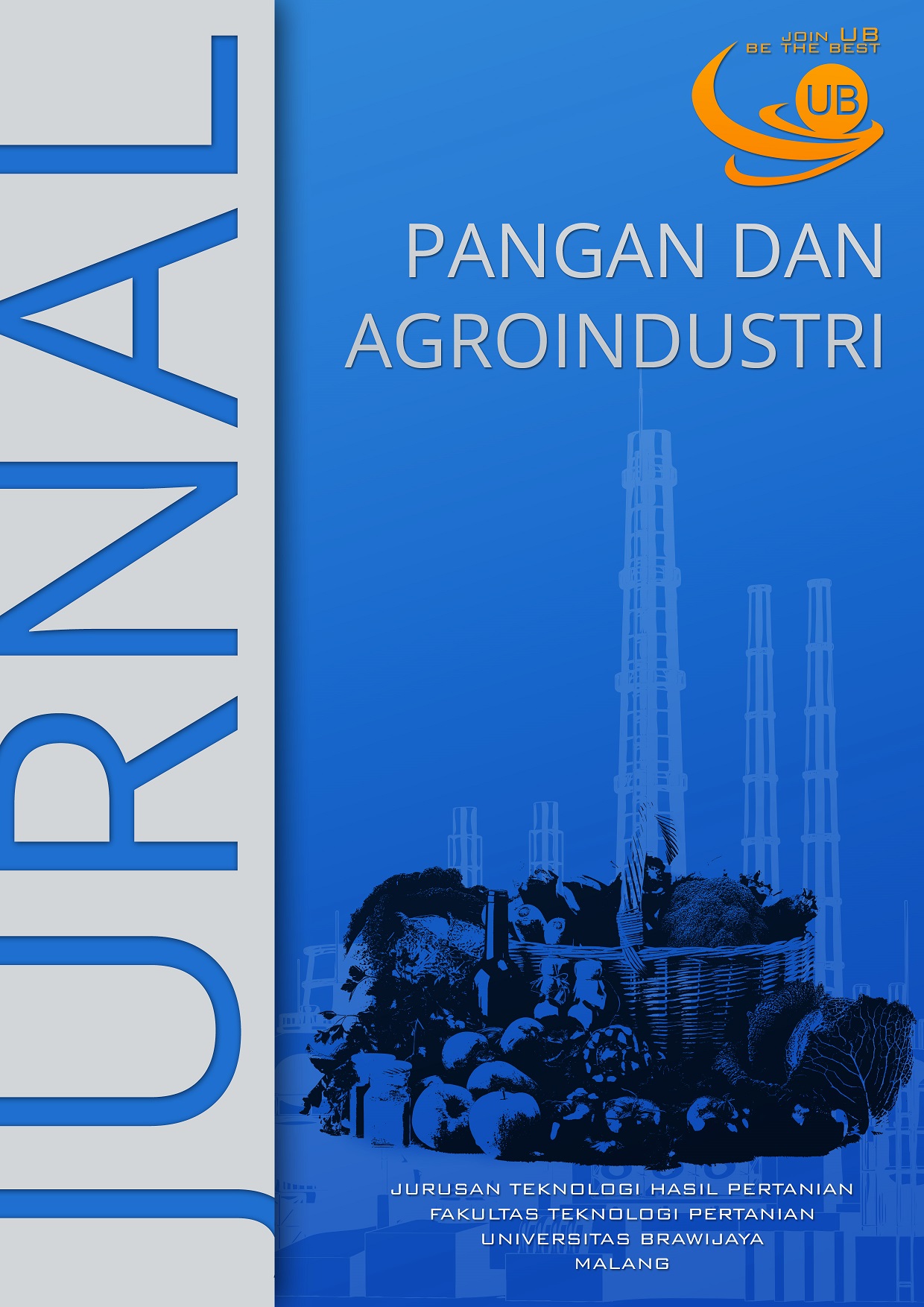 Downloads
License
This work is licensed under a Creative Commons Attribution-ShareAlike 4.0 International License.
Authors who publish with this journal agree to the following terms:


Authors are able to enter into separate, additional contractual arrangements for the non-exclusive distribution of the journal's published version of the work (e.g., post it to an institutional repository or publish it in a book), with an acknowledgment of its initial publication in this journal.
Authors are permitted and encouraged to post their work online (e.g., in institutional repositories or on their website) prior to and during the submission process, as it can lead to productive exchanges, as well as earlier and greater citation of published work (See The Effect of Open Access).