TEST LEVELS OF LYCOPENE AND ANTIOXIDANT ACTIVITY IN NATURALLY FERMENTED TOMATO (LYCOPERSICON ESCULENTUM)
Keywords:
Antioxidant, Lycopene , Natural fermentation, Tomatoes
Abstract
The natural fermentation method for tomatoes is an alternative to avoid rotting tomatoes and increase their selling value. Fermentation is also able to increase the  secondary metabolites. Tomatoes contain lycopene as an antioxidant. The aim of the study was to calculate lycopene levels and antioxidant activity in naturally fermented tomatoes. Research method: total lycopene levels were measured using a UV-Vis 472 nm spectrophotometer. Antioxidant levels were measured using the DPPH method (1,1-Diphenyl-2-Picryl Hydrazil). The results showed that the lycopene content of fresh tomatoes was 0.05149mg/100mL while naturally fermented tomatoes were 0.1254 mg/100mL. Antioxidant levels in fresh tomatoes were based on the IC50 value, which was 57.93 mg/L, while the IC50 for fermented tomatoes was 45.82 mg. /L. The conclusion of this study was the levels of lycopene in naturally fermented tomatoes were higher and the levels of antioxidants in naturally fermented tomatoes were higher than in fresh tomatoes.
References
Adiawati (2019). Pemanfaatan Mikroba dalam Fermentasi Kopi Indonesia, eksplorasi Potensi Mikroba Lokal: Dari Laboratorium Hingga Penikmat Kopi: Orasi Ilmiah Prof. Pingkan Adiawati , Prof. Pingkan Adiawati menyampaikan Orasi Ilmiah Guru Besar ITB pada Sabtu, (23/11/2019) di Aula Barat ITB. https://www.itb.ac.id/berita/detail/57357/orasi-ilmiah-prof-pingkan-adiawati- pemanfaatan-mikroba-dalam-fermentasi-kopi-indonesia (diakses Maret 2020).
Arifulloh. (2013). Ekstraksi Likopen dari Buah Tomat (Lycopersicum esculentum Mill.) dengan Berbagai Komposisi pelarut. Skripsi.Universitas Jember. Jember.
Anonim.(2019). Terbuka Pengetahuan Bahan Pangan. E-book. Universitas.Handout Matakuliah Negeri Yogyakarta. http://besmart.uny.ac.id/v2/pluginfile.php/134937/mod_resource/content/4/Handout%20Sayuran%20dan%20Buah.pdf.
Arifulloh. (2013). Ekstraksi Likopen dari Buah Tomat (Lycopersicum esculentum Mill.) dengan Berbagai Komposisi pelarut. Skripsi.Universitas Jember. Jember.
A Mu'nisa, (2012). Analisis Kadar Likopen Dan Uji Aktivitas Antioksidan Pada Tomat Asal Sulawesi Selatan, Jurnal Bionature Vol 13, No 1 (2012) doi: https://doi.org/10.35580/bionature.v13il.1428.
Frengova, G, I., Emilina, S, D., Beshkova, D, M. (2014). Carotenoid Production by Lactoso-Negative Yeasts Co-Cultivated with Lactic Acid Bacteria in Whey Ultrafiltrate. Biosynthesis of Yeast Carotenoids. 58(7-8):562-567. https://doi.org/10.1515/znc2003-7-82.
Hasri. (2017). Kandungan Likopen Buah Tomat (lycopersicum esculentum l) terhadap Waktu dan Suhu Pemanasan. 20(1), 28–35.
Harahap, Oksianus, N., Johan., Setiaries, V., Pato., Usman. (2018). Pembuatan Minuman fermentasi Sari Tomat dengan Menggunakan Lactobacillus casei subsp. Casei R-68. Jurnal Online Mahasiswa Bidang Pertanian, 5(2), 1-15.
Johansyah,A., Prihastanti, E., Kusdiyantini, E. (2014). Pengaruh Plastik pengemas Low Density Polyethylene (LDPE), High Density Polyethylene (HDPE) dan Polipropilen (PP) Terhadap Penundaan kematangan Buah Tomat (Lycopersicon esculentum.Mill ). Buletin Anatomi dan Fisiologi dh Selulla, 22(1), 46-57. https://doi.org/10.14710/baf.v22i1.7808.
Lin, M dan Yen, C. (1999). Antioxidative Abilty of Lactic Acid Bacteria. Journal of agricultural and food chemistry. 47: 4. 1460-1466. doi: 10.1021/jf981149l.
Mamuaja, Chiristine F dan Lus Helvriana.(2017). Karakteristik Pasta Tomat Dengan Penambahan Asam Sitrat Selama Penyimpanan. Universitas Sam Ratulagi. Manado.
Muin, R., Hakim, I., Febriansyah, A. (2015). Pengaruh Waktu Fermentasi Dan Konsentrasi Enzim Terhadap Kadar Bioetanol Dalam Proses Fermentasi Nasi Aking Sebagai Substrat Organik. Jurnal Teknik Kimi, 3(21), 59-69.
Papadimitriou K, Alegría Á, Bron PA, de Angelis M, Gobbetti M, Kleerebezem M, Lemos JA, Linares DM, Ross P, Stanton C, Turroni F, van Sinderen D, Varmanen P, Ventura M, Zúñiga M, Tsakalidou E, Kok. (2016). Stress Physiology of Lactic Acid Bacteria. J.Microbiol Mol Biol Rev. 80(3), 837-90. 10.1128/MMBR.00076-15.
Perricone, M., Bevilacqua, A., Altieri, C., Sinigaglia, M., & Corbo, M. (2015). Challenges for the Production of Probiotic Fruit Juices. Beverages, 1:2, 95–103.
Pratama, M., Baits, M., and Yaqin, R. N. (2016). Uji Aktivitas Antioksidan Ekstrak Etanol Daun Tomat Buah (Lycopersicon esculentum Mill, var. pyriforme Alef) Dan Daun Tomat Sayur (Lycopersicon esculentum Mill, var. commune Bailey) Dengan Metode DPPH (1,1-Diphenyl-2-Picryl Hydrazil). Jurnal Fitofarmaka Indonesia, 2(1), 76–82. https://doi.org/10.33096/jffi.v2i1.183.
Masrifah., Rahman, N., and Abram, P, H. (2017). Uji Aktivitas Antioksidan Ekstrak Daun Dan Kulit Labu Air ( Lagenaria siceraria ( Molina ) Standl). J.Academika Kimia, 6(2), 98–106.
Rostini Iis. (2007). Peran Bakteri Asam Laktat (Lactobacillus plantarum) Terhadap Masa Simpan Filet Nilai Merah Pada Suhu Rendah. Universitas Padjadjaran. Jatinegoro.
Scott, Stephen. (2013). Fermented Tomato Conserve (Conserva Cruda Di Pomodoro), (Online),https://underwoodgardens.com/fermented-tomato-conserve-conserva-cruda-di-pomodoro/ diakses 12 Maret 2020.
Vitetta.,L., Coulson, S., Thomsen,M., Nguyen, T. dan Hall, S. (2017). Probiotics, D–Lactic acidosis, oxidative stress and strain specificity. Gut Microbes. 8:4: 311–322. doi:10.1080/19490976.2017.1279379.
Yulistiani.,Rosida.,Nopriyanti (2014) Evaluasi Proses Fermentasi Pada Kualitas Tempoyak . Jurnal Teknologi Pangan 8:1.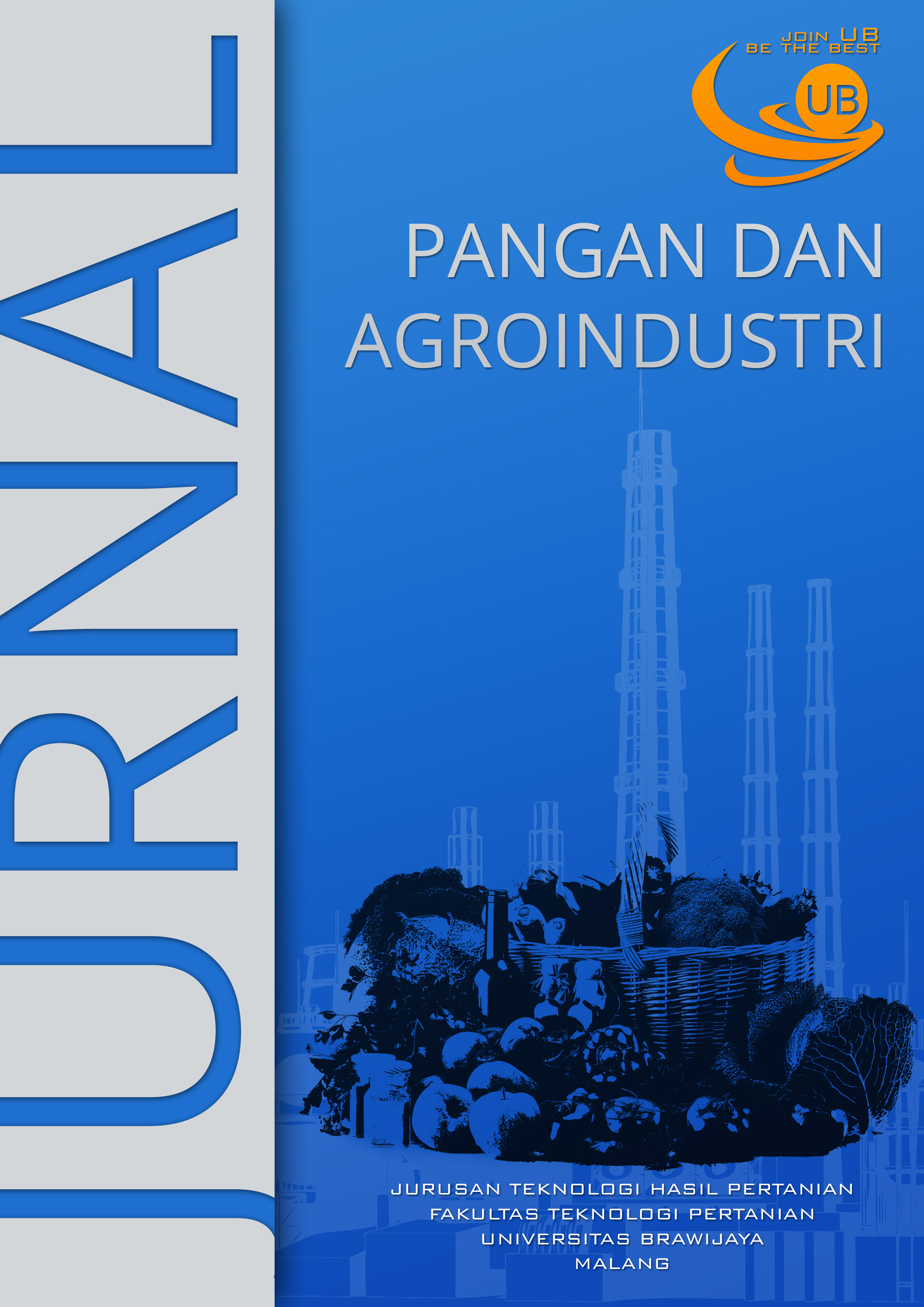 Downloads
License
Copyright (c) 2022 Jurnal Pangan dan Agroindustri
This work is licensed under a Creative Commons Attribution-ShareAlike 4.0 International License.
Authors who publish with this journal agree to the following terms:


Authors are able to enter into separate, additional contractual arrangements for the non-exclusive distribution of the journal's published version of the work (e.g., post it to an institutional repository or publish it in a book), with an acknowledgment of its initial publication in this journal.
Authors are permitted and encouraged to post their work online (e.g., in institutional repositories or on their website) prior to and during the submission process, as it can lead to productive exchanges, as well as earlier and greater citation of published work (See The Effect of Open Access).