THE APPLICATION OF LAMP DRYER ON PRODUCTION OF MORINGA (MORINGA OLEIFERA) LEAF FLOUR
Keywords:
Drying method, Lamp dryer, Moringa leaf flour, Temperature
Abstract
The ultilization of moringa leaf can increase by flour processing where drying is the main step. This research was conducted to determine the physical and chemical characteristics of moringa leaf powder produced by lamp drying compared to solar and ovens dryers. Five variations of drying methods were applied (sunlight, oven 40ºC and 60ºC, lamp dryer 40ºC and 60ºC). The results showed, the lamp dryer produced moringa leaf flour that have good physical and chemical properties, that are yield 35.21 – 35.10%; the highest green degree 4.60 – 4.70; the bulk angle 8.09 – 8.44 and the bulk density 0.43 – 0.43. The water content fulfill the SNI standard, that is :10.03 – 10.13%. Meanwhile, the levels of vitamin C 26.48 – 28.28%; chlorophyll 18.41 – 19.25 mg/L and antioxidant activity 43.45 – 43.84 % of DDPH inhibition. However, the total polyphenol content of moringa leaf flour obtained from lamp drying was the lowest, that is 4.88 – 4.98 mg/L.
References
Alves, A. da S., Teixeira, E. M. B., Oliveira, G. C., Arantes-Pereira, L., Oliveira, C.C. & Costa, L. L. (2017). Physicochemical characterization and antioxidant activity of decolorized Moringa Oleifera Lam leaf flour. Nutritive 42 (31), 2 - 5.
AOAC. (1995). Official Methods of Analysis of Association of Official Analytical Chemist. Virginia USA: AOAC International.
Burda, S. & Oleszek, W. (2001). Antioxidant and antiradical activities of flavonoids. Journal of Agricultural and Food Chemistry, 49 (6), 2774-2779.
Çakmakçi, S. & Turgut, T. (2005). Influence of different light sources, illumination intensities and storage times on the vitamin C content in pasteurized milk. Turkish Journal Veterinary and Animal Sciences 29, 1097-1100.
Chandra, A. & Witono, J. R. B. (2018). Pengaruh berbagai proses dehidrasi pada pengeringan daun stevia rebaudiana. Seminar Nasional Teknik Kimia Kejuangan, 11.
Conde, E., Cadahía, E., García-Vallejo, M.C., Fernández de Simón, B. & González Adrados, J.R. (1997). Low molecular weight polyphenols in cork of quercus suber. Journal of Agricultural and Food Chemistry, 45 (7), 2695-2700.
Fajri, F. & Rahmatu, R. (2018). Kadar klorofil dan vitamin C daun kelor (Moringa Oleifera Lam) dari berbagai ketinggian tempat tumbuh. Agrotekbis, 6 (2).
Hanarisetya, N. (2019). Pengaruh Cara Pengeringan Dan Perebusan Terhadap Aktivitas Antioksidan Dan Mutu Organoleptik Daun Kelor (Moringa oleifera Lamk). Disertasi. : Universitas Sahid.
Huriawati, F., Yuhanna, W.L. & Mayasari, T. (2016). Pengaruh metode pengeringan terhadap kualitas serbuk seresah Enhalus Acoroides dari pantai tawang pacitan. Bioeksperimen: Jurnal Penelitian Biologi, 2 (1), 35-43.
Johnson, B. (2005). Clinical Perspectives on The Health Effects of Moringaoleifera: A Promising Adjunct for Balanced Nutrition and Better Health. KOS health publications.
Leviana, W. & Paramita, V. (2017). Pengaruh suhu terhadap kadar air dan aktivitas air dalam bahan pada kunyit (Curcuma longa) dengan alat pengering electrical oven. Metana, 13 (2), 37-44.
Mwithiga, G. & Sifuna, M.M. (2006). Effect of moisture content on the physical properties of three varieties of sorghum seeds. Journal of food engineering, 75 (4), 480-486.
Nirmala, N.H. (2019). Pengaruh Cara Pengeringan Dan Perebusan Terhadap Aktivitas Antioksidan Dan Mutu Organoleptik Daun Kelor (Moringa oleifera Lamk). Disertasi. Surakarta: Universitas Sahid.
Okaka, J.C. & Potter, N.N. (1979). Functional and storage properties of cowpea-wheat flour blends in bread making. J. Food Science, 42, 822–833.
Padayatty, S.J., Katz, A., Wang, Y., Eck, P., Kwon, O., Lee, J.H., Chen, S., Corpe, C., Dutta, A., Dutta, S.K. & Levine, M. (2003). Vitamin C as an antioxidant: evaluation of its role in disease prevention. Journal of the American College of Nutrition, 22 (1), 18 - 35.
Priastuti, R.C. & Suhandy, D. (2017). Pengaruh arah dan ketebalan irisan kunyit terhadap sifat fisik tepung kunyit yang dihasilkan. Jurnal Teknik Pertanian Lampung (Journal of Agricultural Engineering), 5 (2), 101-108.
Rahayu, T.B. & Nurindahsari Y.A.W. (2019). Peningkatan status gizi balita melalui pemberian daun kelor (Moringa oleifera). Jurnal Kesehatan Madani Medika. 9 (2), 87-91.
Rizal, S., Surmarlan, S. H. & Yulianingsih, R. (2013). Pengaruh konsentrasi natrium bisulfit dan suhu pengeringan terhadap sifat fisik-kimia tepung biji nangka (Artocarpus heterophyllus). Jurnal Bioproses Komoditas Tropis, 1 (2), 1 -10.
Rohmah, M. (2012). Karakterisasi sifat fisikokimia tepung dan pati pisang kapas. Jurnal Teknologi Pertanian Universitas Mulawarman, 8 (1), 20 – 24.
Rohmat, N., Ibrahim, R. & Riyadi, P.H. (2014). Pengaruh perbedaan suhu dan lama penyimpanan rumput laut sargassum polycystum terhadap stabilitas ekstrak kasar pigmen klorofil. Jurnal Pengolahan dan Bioteknologi Hasil Perikanan, 3 (1), 118-126.
Setyowatik, A. T. (2011). Pengaruh Suhu dan Lama Pengeringan terhadap Kadar Vitamin A dan Vitamin C, serta Aktivitas Antioksidan Teh Daun Kelor (Moringa oleifera Lam). Skripsi. Surabaya: Universitas Pembangunan Nasional "Veteran" Jawa Timur.
Syah, H. Yusmanizar, Y. & Maulana, O. (2013). Karakteristik fisik bubuk kopi arabika hasil penggilingan mekanis dengan penambahan jagung dan beras ketan. Jurnal Teknologi dan Industri Pertanian Indonesia, 5 (1), 32-37.
Tamaheang, T., Makapedua, D.M. & Berhimpon, S. (2017). Kualitas rumput laut merah (Kappaphycus alvarezii) dengan metode pengeringan sinar matahari dan cabinet dryer, serta rendemen Semi-Refined Carrageenan (SRC). Media Teknologi Hasil Perikanan, 5 (2), 58-63.
Vega-Gálvez, A., Scala, K.D., Rodríguez, K., Lemus-Mondaca, R., Miranda, M., López, J. & Perez-Won, M. (2009). Effect of air-drying temperature on physico-chemical properties, antioxidant capacity, colour and total phenolic content of red pepper (Capsicum annuum, L. var. Hungarian). Food Chemistry, 117 (4), 647-653.
Wijianti, E.S., Setiawan, Y. & Mulyana, A. (2017). Karakteristik pengering lada menggunakan mesin pengering. Prosiding Seminar Nasional Penelitian Dan Pengabdian Pada Masyarakat.
Winangsih, W. & Parman, S. (2013). Pengaruh metode pengeringan terhadap kualitas simplisia lempuyang wangi (Zingiber aromaticum L.). Anatomi Fisiologi, 21 (1), 19-25.
Wiratakusumah, M. A., Abdullah, K. & Syarief, A.M. (1992). Sifat Fisik Pangan. Bogor: PAU Pangan dan Gizi IPB.
Zahro, L., Cahyono, B. & Hastuti, R.B. (2009). Profil tampilan fisik dan kandungan kurkuminoid dari simplisia temulawak (Curcuma xanthorrhiza Roxb) pada beberapa metode pengeringan. Jurnal Sains dan Matematika Universitas Diponegoro, 17, 24 - 32.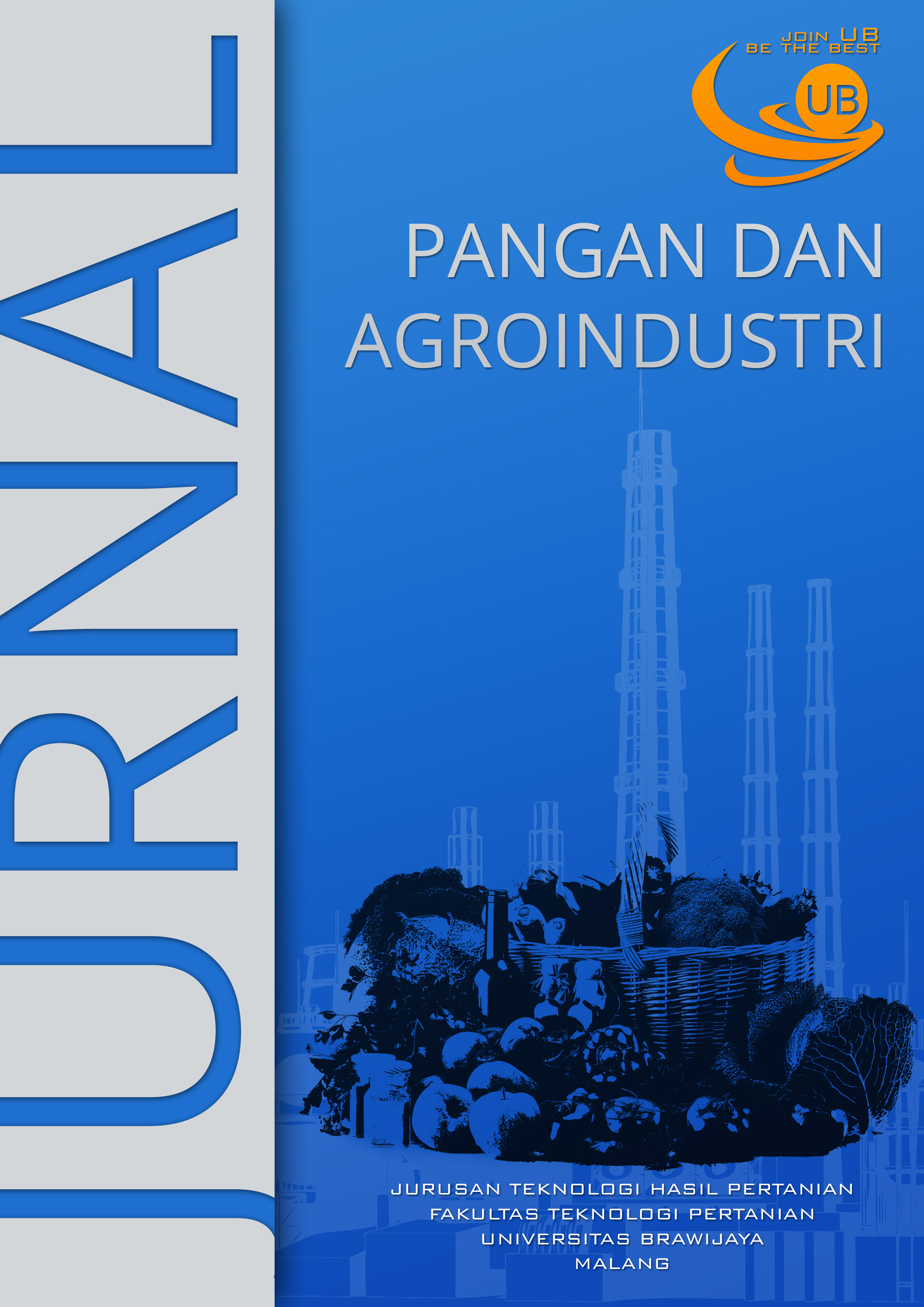 Downloads
License
Copyright (c) 2022 Jurnal Pangan dan Agroindustri
This work is licensed under a Creative Commons Attribution-ShareAlike 4.0 International License.
Authors who publish with this journal agree to the following terms:


Authors are able to enter into separate, additional contractual arrangements for the non-exclusive distribution of the journal's published version of the work (e.g., post it to an institutional repository or publish it in a book), with an acknowledgment of its initial publication in this journal.
Authors are permitted and encouraged to post their work online (e.g., in institutional repositories or on their website) prior to and during the submission process, as it can lead to productive exchanges, as well as earlier and greater citation of published work (See The Effect of Open Access).