PEMANFAATAN CHITOSAN DARI LIMBAH UDANG GALAH SEBAGAI EDIBLE COATING BUAH TOMAT DENGAN VARIASI WAKTU PENYIMPANAN
Keywords:
Chitosan, waktu penyimpanan, tomat
Abstract
Limbah kulit dan kepala udang mengandung senyawa kitin yang bermanfaat dalam bidang pangan. Sintesis kitin menjadi chitosan dapat bermanfaat sebagai edible coating pada buah tomat. Tujuan dari penelitian ini untuk mengetahui kadar air, abu dan protein pada chitosan cangkang udang galah dan mengetahui pengaruh penambahan chitosan terhadap lama penyimpanan buah tomat. Analisis data dalam penelitian menggunakan Rancang Acak Kelompok (RAK) dua faktor yaitu lama penyimpanan tomat dengan 5 taraf, yaitu 0; 3; 6; 9; dan 12 hari, dan konsentrasi serbuk chitosan dengan 4 taraf, yaitu 0%; 1%; 1.5% dan 2%. Hasil analisis chitosan yaitu kadar air 7.90%; abu 3.72% dan protein 4.01%. Penambahan konsentrasi chitosan memberikan pengaruh terhadap jumlah dissolved solids, susut berat, total acidity dan vitamin C selama penyimpanan buah tomat. 
References
Agustina, S., Swantara, D.M.I., Suartha, N. I. 2015. Isolasi Kitin, Karakterisasi, dan Sintesis Kitosan Dari Kulit Udang. Fakultas Kedokteran Hewan. Universitas Udayana. Bali.
Arif, R.A, Ischaidar, Natsir. H. 2013. Isolasi Kitin dari Limbah Udang Putih (Penaeus merguiensis) Secara Enzimatis. Jurusan Kimia. Fakultas MIPA. Universitas Hasanuddin. Makasar.
Kusumawati, N. 2009. Pemanfaatan Limbah Kulit Udang sebagai Bahan Baku Pembutan Membran Ultrafiltrasi. Inotek, FMIP Universitas Negeri Surabaya Volume 13, No 2.
Linawati, H. 2006. Chitosan Bahan Alami Pengganti Formalin. Departemen Teknologi Perairan (THP) Fakultas Perikanan dan Ilmu Kelautan. Institut Pertanian Bogor (FKIK-IPB).
Miskiah, Widaningrum dan C. Winarti. 2011. Aplikasi Edible Film Berbasis Patisagu dengan Penambahan Vitamin C p
ada Paprika. Jurnal Hortikultural, Nomor 21 Volume 1, Halaman 68-76.
Musaddad, D. 2003. Produk Olahan Tomat. Penebar Suadaya. Jakarta.
Nurhikmawati, F., Manurung, M., dan Laksmiwati, M. 2014. Penggunaan Kitosan dari Limbah Kulit Udang sebagai Inhibitor Keasaman Tuak. Jurusan Kimia FMIPA. Universitas Udayana. Bukit Jimbaran.
Purwanti, A. 2013. Upaya Peningkatan Kelarutan Kitosan dalam Asam Asetat dengan Melakukan Perlakuan Awal pada Pengolahan Limbah Kulit Udang menjadi Kitosan. Jurusan Teknik Kimia. Fakultas Teknologi Industri. Institut Sains & Teknologi AKPRIND. Yogyakarta.
Purwanti,A. 2014. Evaluasi Proses Pengolahan Limbah Kulit Udang untuk Meningkatkan Mutu Kitosan yang dihasilkan. Jurusan Teknik Kimia. Fakultas Teknologi Industri. Institut Sains & Teknologi AKPRIND. Yogyakarta.
Rahmawati, W., Herasari, D., dan Husniati. 2011. Produksi Kitosan dari Bahan Baku Cangkang Udang Menggunakan Metode Kimia dan Enzimatis dengan Enzim Kitin Deasetilase. Jurusan Kimia. Fakultas Matematika dan Ilmu Pengetahuan Alam. Universitas Lampung.
Rachawati, M. 2011. Pelapisan Chitosan pada Buah Salak Pondoh (Salacca edulis Reinw.) sebagai Upaya Memperpanjang Umur Simpan dan Kajian Sifat Fisiknya Selama Penyimpanan. Jurusan Teknologi Hasil Pertanian. Fakultas Pertanian. Universitas Mulawarman.
Rismana. 2006. Serat Kitosan Mengikat Lemak. http://www.kompas.com. Diakses pada tanggal 24 Mei 2016.
Siburian, P.H. 2015. Aplikasi Edible Coating Aloe Vera Kombinasi Ekstrak Jahe pada Buah Tomat selama Penyimpanan. Skripsi Fakultas Pertanian Universitas Lampung. Bandar Lampuung.
Susilowati, E., Maryani, Ashadi, dan Hasanah, U. 2015. Sintesis Kitosan Hidrolisat Secara Enzimatis Menggunakan Enzim Papain. Program Studi Pendidikan Kimia. FKIP. Universitas Sebelas Maret. Surakarta.
Tandi. J. E. 2010. Pengaruh Tanin Terhadap Aktivitas Enzim Protease. Jurusan Teknologi Hasil Ternak. Fakultas Peternakan. Universitas Hasanuddin. Makasar.
Triajie, H. Uji kandungan Testosteron pada Udang Galah setelah Perendaman dengan Ekstrak Teripang Pasir (Holothuria scabra Jaeger). Program Studi Ilmu Kelautan. Fakultas Pertanian. Universitas Trunojoyo. Madura
Trisnawati, E., Andesti, D., dan Saleh, A. 2013. Pembuatan Kitosan dari Limbah Cangkang Kepiting sebagai Bahan Pengawet Buah Duku dengan Variasi Lama Pengawetan. Jurusan Teknik Kimia. Fakultas Teknik. Universitas Sriwijaya. Palembang.
Yoshida, C.M.P., Junior, E.N.O., and Franco, T.T. 2009. Chitosan Tailor-Made Films: The Effects of Additives on Barrier and Mechanical Properties, Packaging technology and Science, 22, pp. 161-170.
Zahiruddin, W., Ariesta, A., dan Salamah, E. 2008. Karakteristik Mutu dan Kelarutan Kitosan dari Ampas Silase Kepala Udang Windu (Penaeus monodon). Buletin Teknologi Hasil Perikanan, 11 (2): 25-29.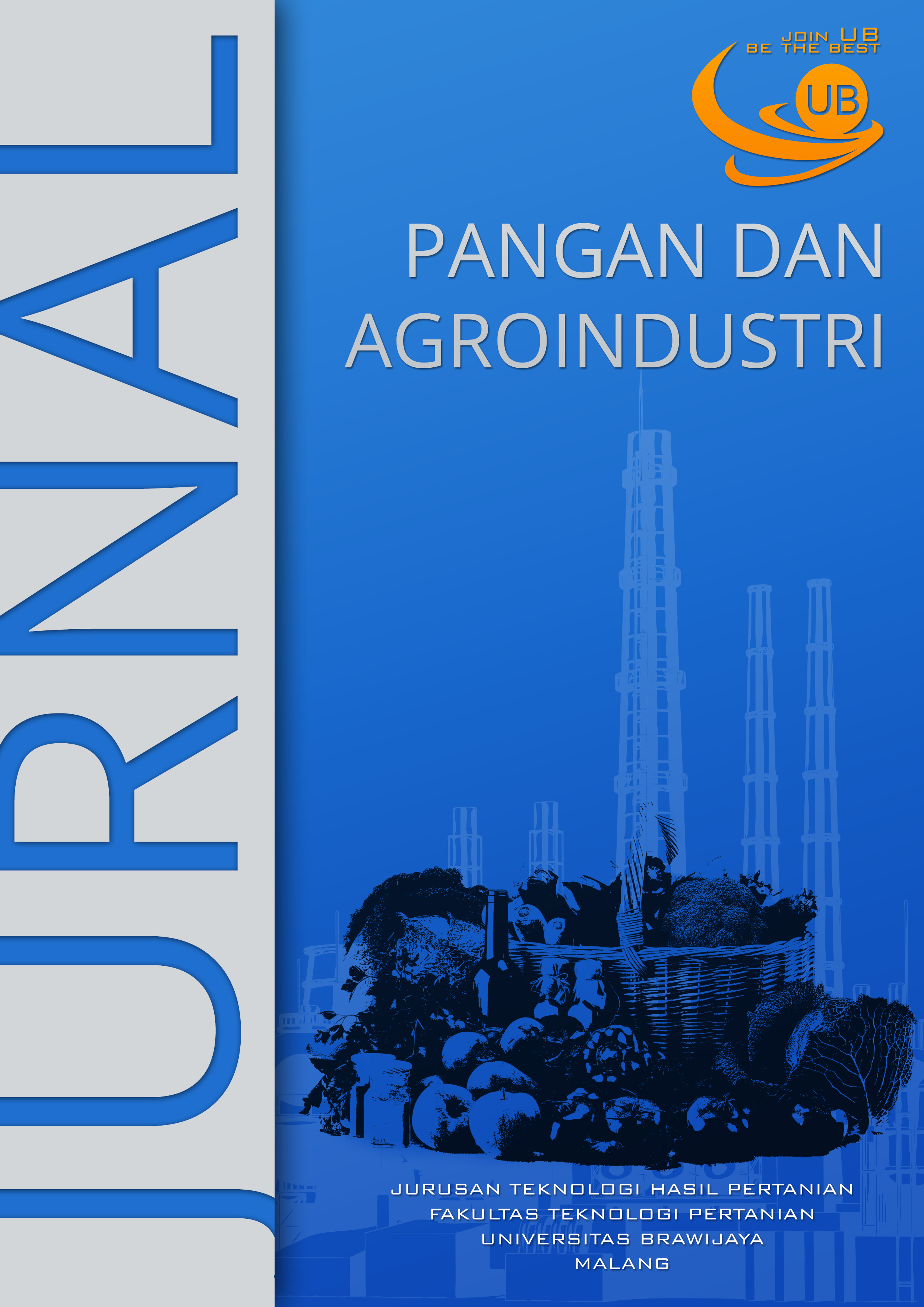 Downloads
License
Authors who publish with this journal agree to the following terms:


Authors are able to enter into separate, additional contractual arrangements for the non-exclusive distribution of the journal's published version of the work (e.g., post it to an institutional repository or publish it in a book), with an acknowledgment of its initial publication in this journal.
Authors are permitted and encouraged to post their work online (e.g., in institutional repositories or on their website) prior to and during the submission process, as it can lead to productive exchanges, as well as earlier and greater citation of published work (See The Effect of Open Access).