DEVELOPMENT OF CORN FLOUR-BASED RICE ANALOG WITH THE ADDITION OF YLANG FLOWER EXTRACT AS A FLAVOR ENHANCEMENT
Keywords:
Antioxidant, Corn Flour,, Rice analog, Ylang flower
Abstract
Rice is the biggest staple food source in Indonesia, and its consumption has also become a habit in Indonesia. Rice analog of corn flour and ylang flower extract can be developed to reduce this natural rice consumption. Ylang flower extract can increase the antioxidant content and add aroma to rice analog. This research aims to develop alternative food products that have better physicochemical properties and can prevent degenerative diseases. The study was conducted using a Randomized Block Design (RBD) method with one factor, which is the concentration of ylang flower extract consisting of five levels, including 0%, 35%, 40%, 45%, and 50%. The results showed that the addition of ylang flower extract affects the rehydration power, rice analog color, proximate test results, and antioxidant activity. Furthermore, the addition of ylang flower extract also affects the amylose content and organoleptic test. The best formulation of rice analog was obtained from the addition of 35% ylang flower extract.
References
Aini, N., Wijonarko, G., & Sustriawan, B. (2016). Sifat Fisik, Kimia, dan Fungsional Tepung Jagung yang DiProses Melalui Fermentsi. Jurnal Agritech, 36(02), 160. https://doi.org/10.22146/agritech.12860
Budijanto, S., & Yuliyanti. (2012). Studi Persiapan Tepung Sorgum (Sorghum bicolor L. Moench) dan Aplikasinya pada Pembuatan Beras Analog. Teknologi Pertanian.
Choiriyah, N. A. (2020). Kandungan Antioksidan Pada Berbagai Bunga Edible Di Indonesia. AGRISAINTIFIKA: Jurnal Ilmu-Ilmu Pertanian, 4(2), 136–143. https://doi.org/10.32585/ags.v4i2.892
Damat, D., Natazza, R. A., & Wahyudi, V. A. (2020). Kajian Pembuatan Beras Analog Berbasis Tepung Komposit dengan Penambahan Konsentrasi Bubur Rumput Laut (Gracilaria sp.) dan Gliserol Monostearat. Food Technology and Halal Science Journal. https://doi.org/10.22219/fths.v3i2.13218
Damat, D., Setyobudi, R. H., Utomo, J. S., Vincēviča-Gaile, Z., Tain, A., & Siskawardani, D. D. (2021). The Characteristics and Predicted of Glycemic Index of Rice Analogue from Modified Arrowroot Starch (Maranta arundinaceae L.). Jordan Journal of Biological Sciences, 14(3), 389–393.
Damat, Utomo, J. S., Tain, A., Siskawardani, D. D., & Rastikasari, A. (2020). KARAKTERISASI SIFAT FISIKO-KIMIA DAN ORGANOLEPTIK BERAS ANALOG KAYA ANTIOKSIDAN DARI PATI GARUT ( Maranta arundinaceae L .): MOCAF DAN PUREE RUMPUT LAUT ( Gracilaria sp ). Jurnal Pascapenen Pertanian, 17(3), 134–145. Retrieved from http://ejurnal.litbang.pertanian.go.id/index.php/jpasca/article/view/11034
Diniyah., Natazza, R.A. & Wahyudi, V. A. (2016). Indeks Glikemik Beras Analog dari Mocaf dengan Subtitusi Jagung, Ubi Jalar Ungu dan Wortel. Jurnal Warta Industri Hasil Pertanian, 33(2), 67–73.
Farhan, H., Rammal, H., Hijazi, A., Hamad, H., Daher, A., Reda, M., & Badran, B. (2012). In vitro antioxidant activity of ethanolic and aqueous extracts from crude Malva parviflora L. grown in Lebanon. Asian Journal of Pharmaceutical and Clinical Research, 5(SUPPL. 3), 234–238.
Fiqtinovri, S. M., & Lesmana, R. (2019). Karakteristik Beras Analog "Mosinggaja" dari Mocaf (Modified Cassava Flour ) Singkong Gajah ( Manihot utilissima ) dan Tepung Jajing Manis. FoodTech Jurnal Teknologi Pangan, 2(2), 52–59.
JUNARLI, J., Tamrin, T., & Suharyatun, S. (2018). Pengaruh Penambahan Aroma Vanili Terhadap Karakteristik Beras Analog Berbahan Baku Tepung Ubi Kayu Yang Diperkaya Dengan Protein Ikan Lele. Jurnal Teknik Pertanian Lampung (Journal of Agricultural Engineering), 6(3), 181. https://doi.org/10.23960/jtep-l.v6i3.181-188
Kurniasari, I., Kusnandar, F., & Budijanto, S. (2020). Karakteristik Fisik Beras Analog Instan Berbasis Tepung Jagung dengan Penambahan k-Karagenan dan Konjak. AgriTECH, 40(1), 64. https://doi.org/10.22146/agritech.47491
Kurniawati, M., Budijanto, S., & Yuliana, N. D. (2016). Karakterisasi dan indeks glikemik beras analog berbahan dasar tepung jagung. Jurnal Gizi Pangan, 11(3), 169–174.
Kusnandar, F., Khonza, M., & Budijanto, S. (2017). Perubahan Mutu Beras Analog Jagung Selama Penyimpanan dan Penentuan Umur Simpannya dengan Metode Arrhenius. Jurnal Mutu Pangan: Indonesian Journal of Food Quality, 4(2), 51–58.
Makinde, F., & Olmori, D. (2020). Improvement of nutritional, functional and pasting properties of long and short local rice grains during germination. Croatian Journal of Food Science and Technology, 12(2), 193–202. https://doi.org/10.17508/cjfst.2020.12.2.07
Nisa, I. ., Candra, N. ., Zahro, A. ., Khotimah, N., Darmawan, E., & Sunarno. (2020). Analisis Proksimat Beras Analog Biji Lamun, Latoh, dan Tepung Mocaf Sebagai Alternatif Makanan Pokok Berprotein. Media Bina Ilmiah, 15(1), 3877–3884.
Noviasari, S., Kusnandar, F., & Budijanto, S. (2013). Pengembangan Beras Analog dengan Memanfaatkan Jagung Putih [Development of White Corn-Based Rice Analogues]. Jurnal Teknologi Dan Industri Pangan, 24(2), 194–200.
Nurlina, N., Tamrin, T., & Sugianti, C. (2015). Pengaruh Waktu dan Konsentrasi Penambahan Zat Aditif Menggunakan Daun Suji ( Pleomele Angustifolia ) Terhadap Karakteristik Beras Analog yang Diperkaya dengan Protein Ikan Tuna. Jurnal Teknik Pertanian Lampung, 4(3), 177–184.
Prawitasari, D. S. (2019). Diabetes Melitus dan Antioksidan. Jurnal Kesehatan Dan Kedokteran, 1(1), 47–51. https://doi.org/10.24123/kesdok.v1i1.2496
Pudjiadtuti, I., Supriyo, E., & Devara, H. R. (2021). Pengaruh Rasio Bahan Baku Tepung Komposit (Ubi Kayu, Jagung dan Kedelai Hitam) pada Kualitas Pembuatan Beras Analog. Jurnal Gema Teknologi, 21(2), 61–66.
Pujiarti, R., Widowati, T. B., Kasmudjo, & Sunarta, S. (2015). Kualitas, komposisi kimia, dan aktivitas antioksidan minyak kenanga. Jurnal Ilmu Kehutanan, 9(1), 3–11.
Rasyid, M. I., Yuliana, N. D., & Budijanto, S. (2016). Karakteristik Sensori dan Fisiko-Kimia Beras Analog Sorghum dengan Penambahan Rempah Campuran. Jurnal Agritech, 36(4), 394–403.
Rayahu, A. ., Apriningrum, M., & Marlina, R. (2017). Hubungan antara Kebiasaan Makan perhari, Asupan Karbohidrat dan Asupan Serat dengan Persentase Lemak Tubuh pada Mahasiswa dan Dosen Prodi Kebidanan Fakultas Ilmu Kesehatan Unsika. Health Science Growth Journal, 1(2), 116–121.
Rosmisari, A. (2006). Tepung jagung komposit, pembuatan dan pengolahannya. Prosiding Seminar Nasional Teknologi Inovatif Pascapanen Pengembangan Pertanian, 28(2), 63–71. https://doi.org/10.21082/jp3.v28n2.2009.p63-71
Saepudin, A., & Nurlia, R. (2019). Pengaruh Pemberian Beras Analog Berbasis Tepung Jagung Terhadap Status Gizi Balita 0-24 bulan. Jurnal Syntax Literate:Jurnal Ilmiah Indonesia, 5(10), 1006–1014.
Sede, V. J., Mamuaja, C. F., & Djarkasi, G. S. S. (2015). Kajian Sifat Fisik Kimia Beras Analog Pati Sagu Baruk Modifikasi HMT (Heat Moisture Treatment) dengan Penambahan Tepung Komposit. Jurnal Ilmu Dan Teknologi Pangan, 3(2), 24–35.
Statistik, badan pusat. (2017). Kajian Konsumsi Bahan Pokok 2017.
Statistik, badan pusat. (2019). Impor Beras Menurut Negara Asal Utama, 2000-2019.
Suarni, Firmansyah, I. U., & Aqil, M. (2013). Keragaman Mutu Pati Beberapa Varietas Jagung. Penelitian Pertanian Tanaman Pangan, 32(1), 50–56. https://doi.org/10.21082/jpptp.v32n1.2013.p50-56
Suarni, & Yasin, M. (2011). Jagung sebagai Sumber Pangan Fungsional. Iptek Tanaman Pangan, 6(1), 41–56.
Utomo, A. R., Retnowati, R., & Juswono, U. P. (2013). Pengaruh konsentrasi minyak kenanga (Cananga odorata) terhadap aktivitasnya sebagai antiradikal bebas. Kimia Student Journal, 5(2), 1–5.
Wahid, I., Amirrudin, M., Lewerissa, A. C., & Mesin, T. (2019). Penyulingan Bunga Kenanga Menjadi Ekstrak Kenanga. Jurnal Abdikarya: Kurnal Karya, 3(44), 368–371.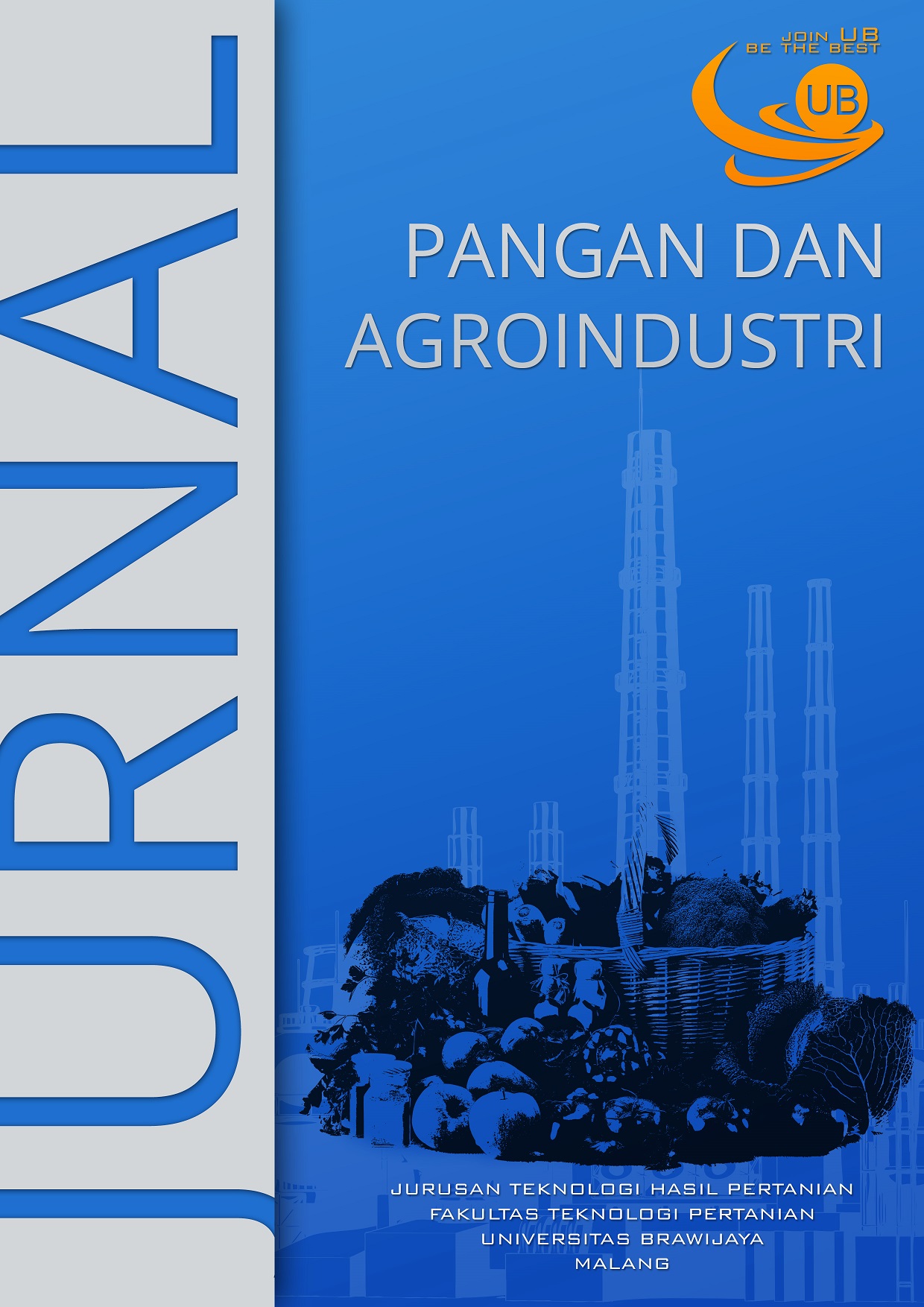 Downloads
License
Copyright (c) 2022 Jurnal Pangan dan Agroindustri
This work is licensed under a Creative Commons Attribution-ShareAlike 4.0 International License.
Authors who publish with this journal agree to the following terms:


Authors are able to enter into separate, additional contractual arrangements for the non-exclusive distribution of the journal's published version of the work (e.g., post it to an institutional repository or publish it in a book), with an acknowledgment of its initial publication in this journal.
Authors are permitted and encouraged to post their work online (e.g., in institutional repositories or on their website) prior to and during the submission process, as it can lead to productive exchanges, as well as earlier and greater citation of published work (See The Effect of Open Access).