SENSORY PROFILE OF CHILLED CHEESECAKE MADE FROM DALI NI HORBO CHEESE IN CONSUMER PERCEPTION
Keywords:
Bagot Ni Horbo, Chilled Cheesecake, Dali Ni Horbo
Abstract
This research is a contribution to the use of dali ni horbo in the making of cheesecake and all the variations, so that consumer-based sensory profile characterization can be carried out. The purpose of this study was to determine the characteristics of the sensory profile and accelerate the cheesecake product development process. The method used in this study is an experiment that uses a consumer-based sensory profile characterization method. Later, it was known that the ideal dali cheesecake product according to panelists is cheesecake which has creamy color, dense texture, cheesy aroma and umami flavor. Dali cheesecake variant which was added with durian is a product that is considered close to the ideal product. Meanwhile, the sensory attributes of umami, dense and sweet are sensory attributes that were close to consumer preferences, but it was possible to do dali cheesecake development with other flavor variants.
References
Adawiyah, D. R., & Yasa, K. I. (2017). Evaluasi profil sensori sediaan pemanis komersial menggunakan metode check-all-that-apply (CATA). Jurnal Mutu Pangan, 4(1), 23–29.
Avianda, D., Yuniati, Y., & Yuniar, Y. (2014). Strategi Peningkatan Produktivitas di Lantai Produksi Menggunakan Metode Objective Matrix. Jurnal Online Institut Teknologi Nasional, 1(4), 202–213.
Giarsyah,and Furqon, M. (2017). Penggunaan Dali Ni Horbo Dalam Pembuatan Tiramisu. Sekolah Tinggi Pariwisata Bandung. Bandung.
Hatta, W., Sudarwanto, M. B., Sudirman, I., & Malaka, R. (2014). Survei Karakteristik Pengolahan dan Kualitas Produk Dangke Susu Sapi di Kabupaten Enrekang, Sulawesi Selatan. Jurnal Ilmu Dan Teknologi Peternakan, 3(3), 154–161.
Luthfi, T. F., & Sanggramasari, S. (2018). The Utilization of Traditional Bagot Ni Horbo Cheese in Cheesecake Making: A Sensory Evaluation. International Journal of Academic Research in Business and Social Sciences, 8(17), 155–166. https://doi.org/10.6007/IJARBSS/v8-i17/5222
Meyners, M., Castura, J. C., & Carr, B. T. (2013). Existing and new approaches for the analysis of CATA data. Food Quality and Preference, 30(2), 309–319. https://doi.org/10.1016/j.foodqual.2013.06.010
Plaehn, D. (2012). CATA penalty/reward. Food Quality and Preference, 24(1), 141–152. https://doi.org/10.1016/j.foodqual.2011.10.008
Ramadhani, A. S., Adawiyah, D. R., & Hunaefi, D. (2018). Karakteristik Profil Sensori Teh Hijau Asal Indonesia, Thailand, dan Cina Menggunakan Panel Terlatih dan Panel Konsumen. Institut Pertanian Bogor.
Ruiz-Capillas, C., & Herrero, A. M. (2021). Sensory Analysis and Consumer Research in New Product Development. Foods, 10(3), 582. https://doi.org/10.3390/foods10030582
Santoso, S. (2014). SPSS 22 from essensial to expert skills. Jakarta : Elex Media Computindo.
Varela, P., & Ares, G. (2012). Sensory profiling, the blurred line between sensory and consumer science. A review of novel methods for product characterization. Food Research International, 48(2), 893–908. https://doi.org/10.1016/j.foodres.2012.06.037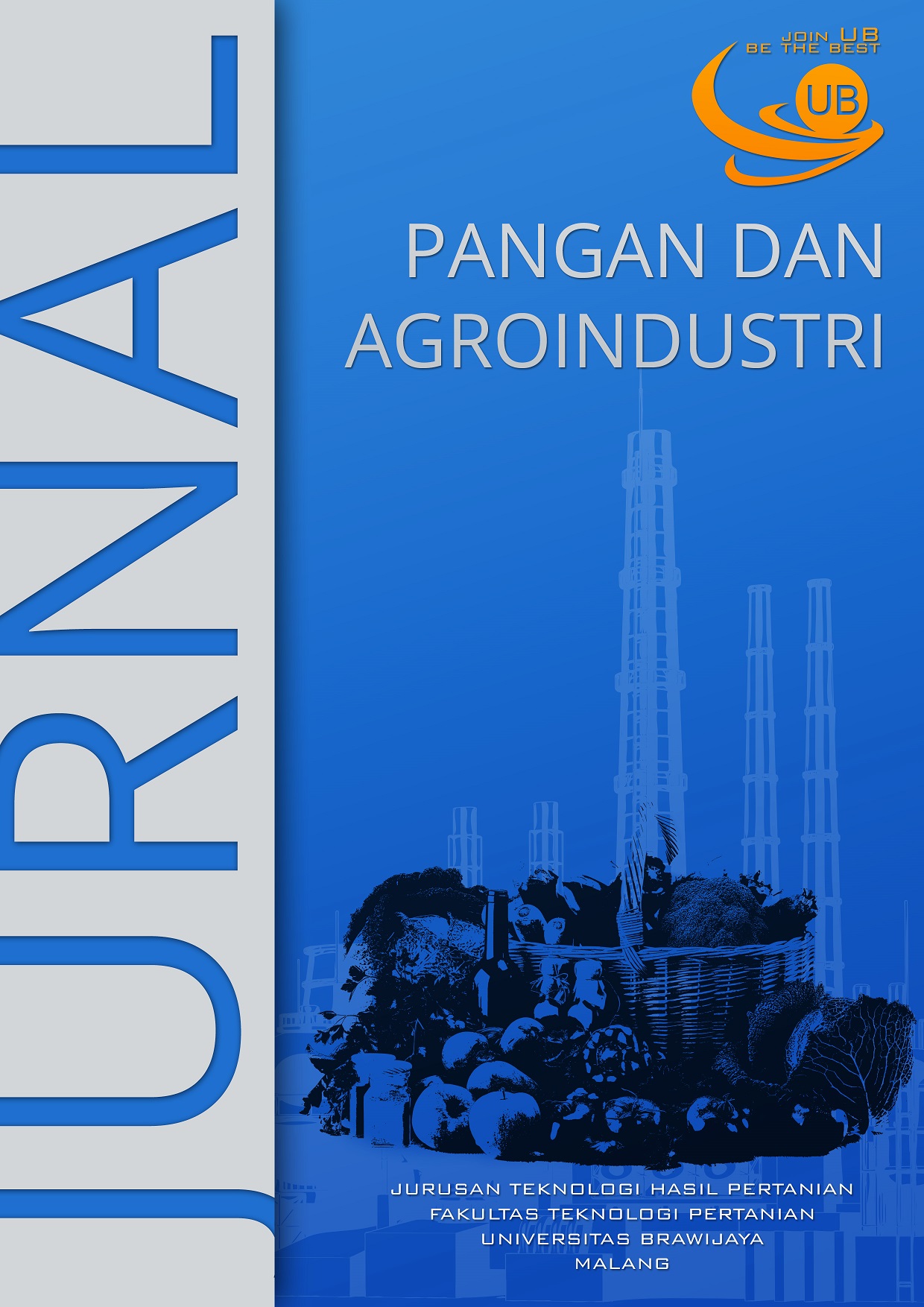 Downloads
License
Copyright (c) 2022 Jurnal Pangan dan Agroindustri
This work is licensed under a Creative Commons Attribution-ShareAlike 4.0 International License.
Authors who publish with this journal agree to the following terms:


Authors are able to enter into separate, additional contractual arrangements for the non-exclusive distribution of the journal's published version of the work (e.g., post it to an institutional repository or publish it in a book), with an acknowledgment of its initial publication in this journal.
Authors are permitted and encouraged to post their work online (e.g., in institutional repositories or on their website) prior to and during the submission process, as it can lead to productive exchanges, as well as earlier and greater citation of published work (See The Effect of Open Access).