IMMUNOSTIMULANT POTENTIAL OF OYSTER MUSHROOM NUGGET (Pleourotus ostreatus)
Keywords:
Beta glucan, Immunostimulant, Oyster mushroom nugget
Abstract
Oyster mushrooms are widely known as having high beta glucan content. Beta glucan is a water insoluble fiber that indicates an immunomodulator with increasing the activity of NK cells in the bloodstream which provides immune effect. Oyster mushroom nuggets are processed oyster mushrooms that can be proven containing the highest beta glucans. This study aims to observe the immunostimulant potential of oyster mushroom nuggets in BALB/c mice by analyzing its white blood cell profile, spleen and liver histopathology. The research method is conducted through orbital sinus of the rat's eye using a microhematocrit to count total leukocytes, lymphocytes, and granulocytes with the Delayed Type Hypersensitivity test. The 18mg/kg body weight oyster mushroom nugget can increase lymphocytes cells 7.2 ± 1.22 103/µl. It is significantly different from control group. Immunostimulatory activity also was proven with the widening of the white pulp of the spleen with the growth of young lymphocytes after being given oyster mushroom nuggets of 18 mg/kg body weight.
References
AOAC. (2005). Official Methods of Analysis of the Association of Official Analytical Chemists. Published by the Association of Official Analytical Chemist. Marlyand.
Bergendiova K, Tibenska E, Pleuran MJ. (2011). β-glucan from pleurotus ostreatus supplementation, cellular immune response and respiratory tract infections in athletes. Eur J Appl Physiol,111 (9),2033–2040.
Bobovčák M, Kuniaková R, Gabriž J, Majtán J. (2010). Effect of pleuran (βglucan from pleurotus ostreatus) supplementation on cellular immune response after intensive exercise in elite athletes. Appl Physiol Nutr Metab, 35(6),755–762.
Charnock, S.J., Mc Clearly B.V. (2017). Enzymes : Industrial and Analytical Application. Megazyme International Ireland Ltd.
Chang, Shu Ting and Solomon P.Wasser. (2012). The Role of Culinary-Medicinal Mushrooms on Human Welfare with a Pyramid Model for Human Health. International Journal of Medicinal Mushrooms 14(2), 95-134.DOI: 10.1615/IntJMedMushr.v14.i2.10.
De Garmo, E. D, W. G. & Sullivan, J. R. (1984). Engineering Economics. New York: McMillan Publishing Company.
DeMan, J. M. (2013). Principles of Food Chemistry 3rd Edition. Springer. New York.
Hallmann E, Lipowski J. (2013). The Seasonal Variation in Bioactive Compounds Content in Juice from Organic and Non-organic Tomatoes. Plant Foods Hum Nutr, 68(2), 171–176.
Hatano T, Kagawa H, Yasuhara T, Okuda T. (1988). Two New Flavonoids and Other Constituents in Licorice Root: Their Relative Astringency and Radical Scavenging Effects. Chem Pharm Bull, 36(6), 2090. doi: 10.1248/cpb.36.2090.
Hutchings, J. B. (1999). "Food Color and Appearance". Springer US.
Lee, D.J., Kim, K.H., Kang, J.H., Kim, J.B., Lee, Y.S. and Kim, H.W. (2006). Antioxidant and anticanceractivities of methanolic extracts in grains of the Korea rice landraces. Korean Journal International Agriculture, 18, 264-269.
Mccleary B V, Monaghan D. Measurement of Resistant Starch. (2016). J AOAC Int 2002; Morey JN, Boggero IA, Scott AB, Segerstrom SC. HHS Public Access, 85: 665–675.
Matheos C, Poppy L, Carla K. (2013). Gambaran histologik jaringan limpa tikus putih (Rattus norvegicus) yang diinfeksi Eschericia coli dan diberi madu. e-Biomedik. 1 (2), 961-965.
Meilgaard, M.C., Gail Vance Civille, and Bernard Thomas Carr. (2007). Sensory Evaluation Techniques. Edition: 5thPublisher: CRC PressISBN: 978-1-4822-1690-5.
Panjaitan, R. (2007). Pengaruh pemberian karbon tetraklorida terhadap fungsi hati dan ginjal tikus. Makaria Kesehatan, 11 (1), 11-16.
Polish Norm. (1998). The estimation of vitamin C in fruits and vegetables published by Polish Standard Committee, PN-A-04019, 1–10.
Priscilla de Graaff, Coen Govers, Harry J. Wichers & Reno Debet. (2018). Consumption of β- glucans to spice up T cell treatment of tumors: a review. Expert Opin Biol Ther. 18(10), 1023-1040, DOI: 10.1080/14712598.2018.1523392.
Rousdy, Diah Wulandari dan Elvi Rusmiyanto. (2018). Histologi limpa dan hematologi mencit yang diinfeksi Escherichia coli setelah pemberian asam humat gambut kalimatan . Jurnal Bioteknologi dan Biosains Indonesia, 5 (2), 168–176.
Sari, I.N. (2016). Aktivitas Imunostimulan Ekstrak Buah Bakau Hitam sevara in vivo pada tikus. Skripsi Institut Pertanian Bogor.
Underwood, J.C. (1999).Patologi Umum dan Sistemik, Edisi II, Vol II. Editor : Sarjadi. Jakarta : EGC.
Wasser, S.P. (2014). Medicinal Mushroom Science: Current Perspectives, Advances, Evidences and Challenges. Biomedical Journal. 37, 345-356. DOI: 4103/2319-4170.138318.
Yuliani, Sapto. (2011). Effect Likopen terhadap gambaran mikroskopik limpa tikus betina Sprague dawley. Jurnal Ilmiah Kefarmasian, 1(1), 9-15.
Zhang, Mei., Steve W.Cui, Peter C.K.Cheung, and Qi Wang. (2008). Antitumor polysaccharides from mushrooms: A review on their isolation process, structural characteristics and antitumor activity. Trends in Food Science & Technology 12:4-19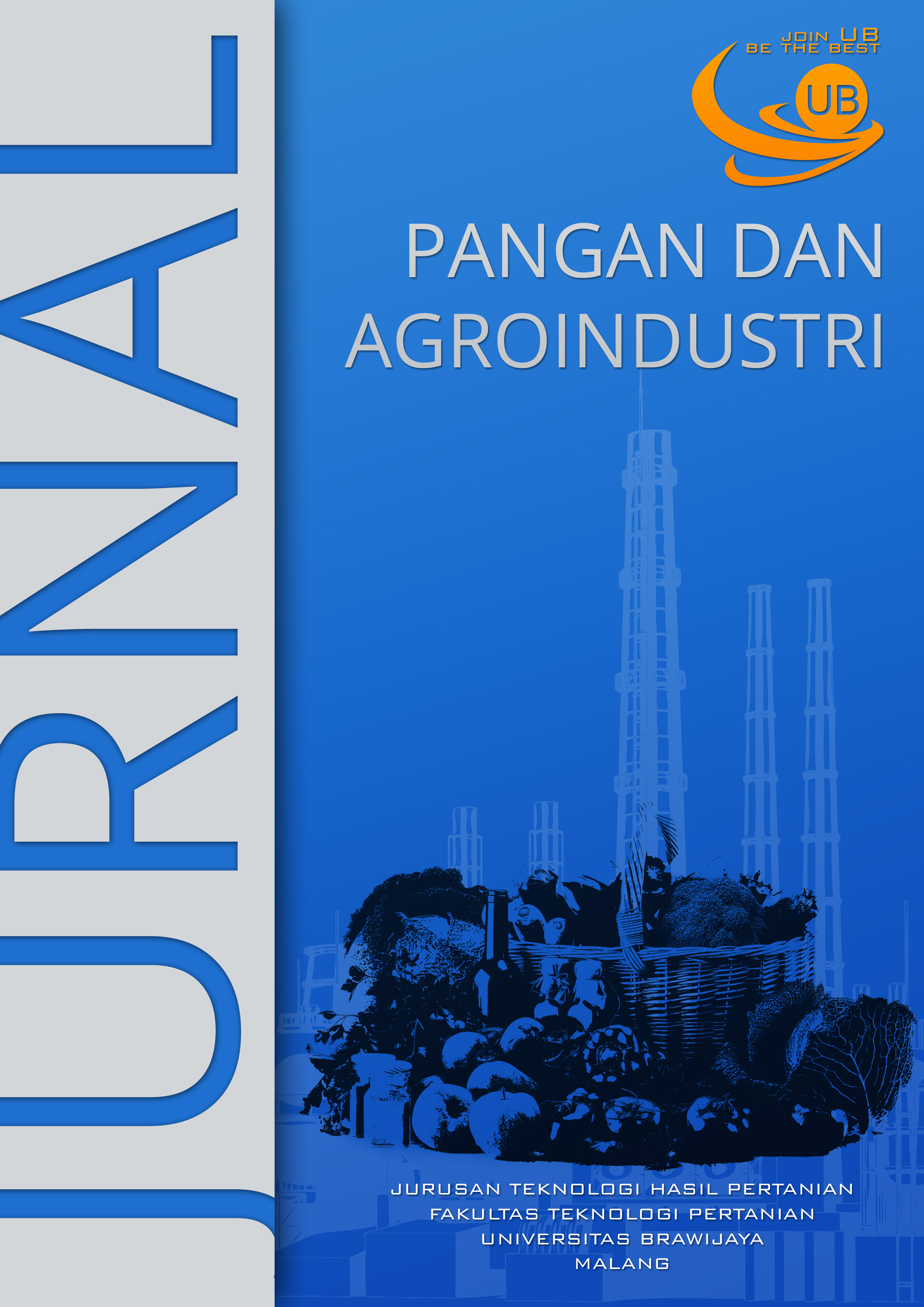 Downloads
License
Copyright (c) 2022 Jurnal Pangan dan Agroindustri
This work is licensed under a Creative Commons Attribution-ShareAlike 4.0 International License.
Authors who publish with this journal agree to the following terms:


Authors are able to enter into separate, additional contractual arrangements for the non-exclusive distribution of the journal's published version of the work (e.g., post it to an institutional repository or publish it in a book), with an acknowledgment of its initial publication in this journal.
Authors are permitted and encouraged to post their work online (e.g., in institutional repositories or on their website) prior to and during the submission process, as it can lead to productive exchanges, as well as earlier and greater citation of published work (See The Effect of Open Access).