CHEMICAL AND ORGANOLEPTIC PROPERTIES OF COOKIES FROM CORN FLOUR AND MUNG BEAN AS A GLUTEN-FREE SNACKS
Keywords:
Autism, Cookies, Corn flour, Mung bean
Abstract
Autism disorders can reduce the ability to communicate, socialize, and respond to the environment. Some children with autism disorders are allergic to gluten. This study aims to analyze the characteristics of gluten-free cookies from corn flour and mung bean flour. The experimental design used was a Randomized Block Design. The formulation of corn flour : mung bean flour were 60%: 40%, 55%: 45%, 50%: 50%, 45%: 55%, 40%: 60%, each treatment was repeated 5 times. The best treatment is the formulation of 50% corn flour + 50% mung bean flour. The nutrient content of cookies (per 100g) are 18.47 kcal energy, 4.94 grams of protein, 6.93 grams of fat, 25.33 grams of carbohydrates. The serving size for autism children aged 4-6 years is 8 pieces (± 80 grams) per day with 2 feeds.
References
AOAC. (1995). Official Method of Analysis of The Association Analytical Chemist. Inc. Washington, DC.
Attlee, A., Kassem, H., Hashim, M., & Obaid, R. S. (2015). Physical Status and Feeding Behavior of Children with Autism. Indian Journal of Pediatrics, 82(8), 682–687. https://doi.org/10.1007/s12098-015-1696-4
Becker, P. M., & Yu, P. (2013). What makes protein indigestible from tissue-related, cellular, and molecular aspects? Molecular Nutrition and Food Research, 57(10), 1695–1707. https://doi.org/10.1002/mnfr.201200592
Buie, T. (2013). The Relationship of Autism and Gluten. CLITHE, 35(5), 578–583. https://doi.org/10.1016/j.clinthera.2013.04.011
De Magistris, L., Familiari, V., Pascotto, A., Sapone, A., Frolli, A., Iardino, P., Carteni, M., De Rosa, M., Francavilla, R., Riegler, G., Militerni, R., & Bravaccio, C. (2010). Alterations of the intestinal barrier in patients with autism spectrum disorders and their first-degree relatives. Journal of Pediatric Gastroenterology and Nutrition, 51(4), 418–424. https://doi.org/10.1097/MPG.0b013e3181dcc4a5
Hutajulu, T. F., & Aviana, T. (2013). Substitusi Terigu Oleh Corn flour Dan Tepung Beras Pada Produk Kukis. Balai Besar Industri Agro, 30, 49–58.
Imandira, P. A. . (2012). Pengaruh Substitusi Tepung Daging Ikan Lele Dumbo (Clarias gariepinus) dan Tepung Ubi Jalar Ungu (Ipomea batatas L.) Terhadap kandungan Zat Gizi dan Penerimaan Biskuit Balita Tinggi Protein dan β-karoten. Universitas Diponegoro.
Joye, I. (2019). Protein digestibility of cereal products. Foods, 8(6), 1–14. https://doi.org/10.3390/foods8060199
Kementerian Kesehatan Republik Indonesia. (2018). Data Komposisi Pangan Indonesia. http://panganku.org
Kiin-Kabari, D. B., & Giami, S. Y. (2015). Physico Chemical Properties and in-vitro Protein Digestibility of Non-Wheat Cookies Prepared From Plantain Flour and Bambara Groundnut Protein Concentrate. Journal of Food Research, 4(2), 78. https://doi.org/10.5539/jfr.v4n2p78
Mashab, N. I. A., & Tajudin, N. R. (2010). Pengetahuan Gizi Ibu dan Pola Makan Anak Autis. Makara Journal of Health Research, 13(2), 88–90. https://doi.org/10.7454/msk.v13i2.373
Meilgaard, M., G. V. C. dan T. C. (1999). Sensory Evaluation Techniques (3rd ed.). CRC Press.
Mubarak, A. E. (2005). Nutritional composition and antinutritional factors of mung bean seeds (Phaseolus aureus) as affected by some home traditional processes. Food Chemistry, 89(4), 489–495. https://doi.org/10.1016/j.foodchem.2004.01.007
Mulloy, A., Lang, R., Reilly, M. O., Sigafoos, J., Lancioni, G., & Rispoli, M. (2010). Research in Autism Spectrum Disorders Gluten-free and casein-free diets in the treatment of autism spectrum disorders : A systematic review. Research in Autism Spectrum Disorders, 4(3), 328–339. https://doi.org/10.1016/j.rasd.2009.10.008
Sanctuary, M. R., Kain, J. N., Angkustsiri, K., & German, J. B. (2018). Dietary Considerations in Autism Spectrum Disorders: The Potential Role of Protein Digestion and Microbial Putrefaction in the Gut-Brain Axis. Frontiers in Nutrition, 5(May), 1–20. https://doi.org/10.3389/fnut.2018.00040
Widyastuti, E. (2015). Karakteristik Biskuit Berbasis Tepung Ubi Jalar Oranye (Ipomoea Batatas L.), Corn flour (Zea Mays) Fermentasi, dan Konsentrasi Kuning Telur. Jurnal Teknologi Pertanian, 16(1), 9–20.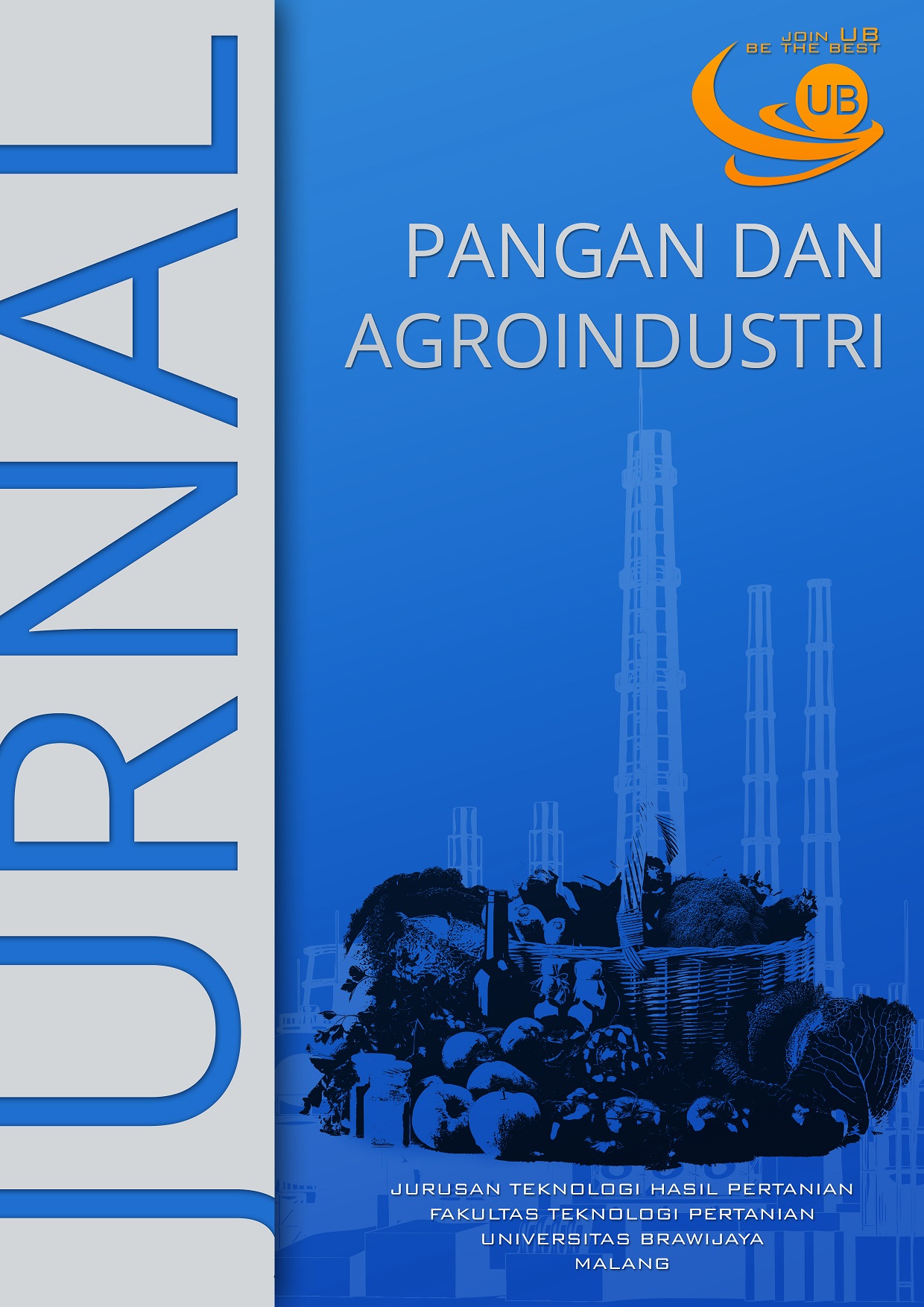 Downloads
License
Authors who publish with this journal agree to the following terms:


Authors are able to enter into separate, additional contractual arrangements for the non-exclusive distribution of the journal's published version of the work (e.g., post it to an institutional repository or publish it in a book), with an acknowledgment of its initial publication in this journal.
Authors are permitted and encouraged to post their work online (e.g., in institutional repositories or on their website) prior to and during the submission process, as it can lead to productive exchanges, as well as earlier and greater citation of published work (See The Effect of Open Access).